Berlin Alexanderplatz
(1980)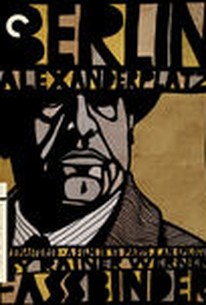 Movie Info
TV mini-series- Rainer Werner Fassbinder directed this 16-hour film that follows Franz Biberkopf (Gunter Lamprecht) after his release from prison in 1920s Germany. Although Biberkopf wants to remain straight, the poor economy ultimately drives him back to a life of petty crime and violence. Based on Alfred Doblin's acclaimed novel, this movie documents a man's descent into depravity and insanity, and sets the stage for the emergence of the Nazi party.
News & Interviews for Berlin Alexanderplatz
Critic Reviews for Berlin Alexanderplatz
Audience Reviews for Berlin Alexanderplatz
First it was the Italians dealing with the rise of Fascism and other problems, and now we have Germans dealing with the rise of Nazism and other problems in "1900 II: The German Story", now only set in the 1920s. That was a brutal stretch right there, because the only thing I'm using to connect this and "1900" is the fact they're super, super long, and even then, the almost five-and-a-half-hour-long "1900" doesn't have anything on this efforts' length... which makes me seriously question why anyone would call this an official film. I mean, I understand that it saw a theatrical release, intermittent though it may have been, but seriously, I don't even know if you can call it a "mini"series, it's so long. Of course, that isn't exactly to say that that's the only reason why not a whole lot of people checked this thing out when it first hit the scene, because it's set in Berlin, whose name is actually in the title, for goodness' sake, and whose borders were sealed off by a big ol' wall at the time of this series' release, and on top of all of that, the series reminded us about Nazism. Yeah, I'm thinking this thing didn't make people distancingly nervous just because the folks were worried that this was going to be, I don't know, one of Rainer Werner Fassbinder's avant-garde films stretched out to be fifteen-and-a-half hours long or something. I don't know who would think that, because as little as the general public know about this series, it's substantially more popular than Fassbinder's avant-garde films, but the fact of that matter is that you need not worry about "Sátántangó" doubled in length (Ugh, just thinking about it makes me want to cry in overwhelming horror), because outside of a seriously bizarre two-hour final act (The fact that the final act is two hours long is bizarre enough), this is a lot more focused than that, even though it's hard to stay focused. Don't get me wrong, das ist gut television, ja, but it is a little overblown, which isn't to say that its issues end there. Approached like a film, this miniseries is far from television in its scale and overall quality, but it does sometimes get a little too superficial, perhaps even cheesy with moments in dialogue, if not comic relief, or at least feels as though it does behind overblown touches in atmosphere which are at their most problematic when they take the form of sentimentality. Overplaying Peer Raben's emotive score, in addition to thematic visuals and dramatic dialogue, Rainer Werner Fassbinder, as director and writer, sees his share of lapses in subtlety, which isn't to say that Alfred Döblin didn't, as his narrative concept, no matter how dramatically worthy, is characterized by melodrama that crafts, albeit compelling, but nonetheless overblown conflicts and somewhat manufactured characters. Subtlety is simply limited, both within the melodramatic story concept, and within its overambitious interpretation, thus making for an opus that is, of course, dramatically overblown, as surely as it is narratively overblown. To be something of an epic, this saga isn't exactly sweeping in its scale, yet it still boasts enough material to achieve a startlingly immense runtime as a final product, and if the material feels overblown, at least prior to a final episode which gets to be surprisingly avant-garde, it's perhaps because there are so many layers focused within a scale of only so much grandness that the narrative ends up being convoluted, proving to be confusing as a challenge to patience, not at all helped by the sheer length of the dizzying narrative's interpretation. "Overblown" seems to be a key term in this paragraph, and that's to be expected, I suppose, seeing as how the series totals up to a runtime of about fifteen-and-a-half hours, and while it has plenty of extensive, if convoluted material to work with in that time, and although it has times in which it hurries along with exposition, it tends to drag its feet with filler, and when it's not doing that, it commits a great sin as a project of its length by slipping into repetition that, of course, gradually devolves into monotony, and when all of the aimless circling finds itself backed by, not so much dry, but thoughtful directorial storytelling by Fassbinder, pacing stiffens. Whether you're viewing the project intermittently or doing what Fassbinder ostensibly hoped you might do and do the best you can to experience the epic opus in as few sittings as you can make while retaining sanity, you can't help but feel the minutes drag on, and that is a serious problem within a series that is so well-done, but at the same time so - you guessed it - overblown that rewarding value goes threatened, yet hardly. Its subtlety questionable and its pacing glacial, the convoluted and aimless epic is flawed, but compelling enough to grip the patient as entertaining, resonant and, yes, even aesthetically tasteful. There's a surprisingly prominent utilization of music throughout this series, but considering the final product's length, it's not long before Peer Raben runs out of material and sees his score devolving into much repetition, made all the more aggravating when the formulaic musicality is used to reinforce subtlety issues through sentimentality, and yet, on the whole, Raben plays a big part in sustaining the series' entertainment and aesthetic value, with a mostly whimsical Italian flavor that works surprisingly well in capturing the melodrama's emotive and artistic range, as surely as Harry Baer's art direction captures the era handsomely. Of course, the art direction wouldn't be so handsome if it wasn't being observed through the most consistently strong artistic touch in this series: Xaver Schwarzenberger's cinematography, which is nothing if not breathtaking, with a shimmering emphasis on environmental lighting that often overtakes the palette, not blindingly, but crisply, with a dreamy beauty that is distinguished and instrumental in the series' keeping your attention held. Really, the series' stylistic value on the whole really does a lot to define the engagement value of this artistic endeavor, even if you do kind of get used to all of the aesthetic touches over the course of fifteen-and-a-half hours, during which the series is going to need more than just good music and looks to get you by. Overblown to the point of being convoluted, yet still not grand enough in scope for its interpretation's insane runtime to be entirely justified, this series' narrative value is limited by natural shortcomings, alone, yet Rainer Werner Fassbinder wasn't exactly Béla Tarr, and would have the ambition to craft such a sprawling affair if he wasn't provided intriguing material within novelist Alfred Döblin's extensive portrait on crime and morality within Germany, circa 1920s, betrayed and done justice by Fassbinder's ambitious interpretation. His script far from tight and often rather cheesy, and his direction not energetic enough to do all that sharp of a job at smoothing out melodramatic bite and glacial pacing, Fassbinder still does what he can to hold your attention, with a script whose moments of being more extensive than exhausting immerse you into the depths of this drama, further sold by thoughtful direction that rarely gets meditative to the point of dryness, and often draws on material comfortably enough to resonate. His work with the cast, of course, augments a feeling of depth within this intimate drama, as most everyone, notwithstanding a few hammy members, has a time to shine, and that especially goes for the perhaps tragically forgotten Günter Lamprecht, who never loses his charisma, but portrays the sense of evolution within a man of crime as he rises in respectability and eventually falls into great danger, tragedy and even insanity with profound layering, anchored by a powerful dramatic range that carries a sense of progression in this mostly aimless epic of a character study. I will go so far as to say that there are times throughout the final product in which the series is downright messy (I'm telling you, I just have no clue what was up with that final episode), and I hate that, because there's a lot of potential and a lot of time taken to fulfill it, yet that's not to say that the time is wasted, because through all of the overambition is enough inspiration within style and substance to make a saga that is not simply entertaining, but rewarding to the patient. At the end of the day that it does, in fact, take to watch this "film" in its entirety (It's just a miniseries, snobby fans of overlong experimental filmmaking), there are cheesy spells in storytelling to make melodrama all the more disconcerting, while a convoluted narrative is made all the more challenging by an exhaustingly excessive length that, when combined with paceless dry spells in storytelling, leave the final product to drag, almost to the brink of underwhelminginess, ultimately overcome by a solid score and art direction, breathtaking cinematography, and a worthy story that is carried by highlights in scripting, direction and, of course, acting, - particularly by leading man Günter Lamprecht - enough so to make Rainer Werner Fassbinder's "Berlin Alexanderplatz" a generally compelling and ultimately rewarding character drama epic. 3/5 - Good
Cameron Johnson
Super Reviewer
The pièce de résistance of Fassbinder's career, an extraordinary 15-1/2 hour magnum opus that represents both the cinematic realization of his seminal inspiration and the culmination of his themes - and he properly departs from his detached style to deliver his most heartfelt and moving character study up to then, with a phenomenal central performance by Günter Lamprecht and a magnificent score by Peer Raben.
Carlos Magalhães
Super Reviewer
Mini-series,the artifact of a mad scientist.These monumental episodes by that uptight "scream" justified Alfred Döblin's modern classic,a statuette of ambrosia delving into the hearts and minds of spacious yet preconceived characters,apparitions of a crumbling institution,whether it's political or just unstable. Fassbinder's vision breathed through 14 chapters,line-ups of diagrams tracking down Franz Biberkopf (Günter Lamprecht),his alter ego/foe and friend Reinhold Hoffmann (Gottfried John),his ever longing confidante Eva (Hanna Schygulla) and his dear lover Mieze (the goddess named Barbara Sukowa) amongst countless of encounters,quarrels,processes till the expiation under the Berlin skies. "And if you ask again whether there is any justice in the world, you'll have to be satisfied with the reply: Not for the time being; at any rate, not up to this Friday." Alfred Döblin
Dimitris Springer
Super Reviewer
Berlin Alexanderplatz Quotes
There are no approved quotes yet for this movie.