Benny & Joon
(1993)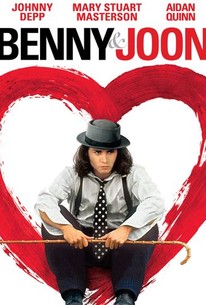 Movie Info
Johnny Depp was nominated for a Golden Globe for his astonishing performance in Benny & Joon, though the entire cast is equally impressive. Benny (Aidan Quinn) runs a small car repair shop. He must also take care of his mentally ill sister Juniper, better known as Joon (Mary Stuart Masterson). After losing a bet, Benny is forced to bring another eccentric into his house: Sam (Johnny Depp), the cousin of a friend. Not inclined to conversation, Sam expresses himself by performing Charlie Chaplin and Buster Keaton routines (and brilliantly!) Not surprisingly, he immediately hits it off with Joon. As Sam and Joon fall deeper in love, Benny for the first time in life experiences the pangs of jealousy. As can be gathered by this synopsis, Benny and Joon may not strike responsive chord with everyone; those who like the film, however, are almost militant in their devotion. ~ Hal Erickson, Rovi
Critic Reviews for Benny & Joon
Audience Reviews for Benny & Joon
½
quirky, touching, funny, heartfelt, sentimental, sweet, whimsical, and uplifting. All of these words are the perfect ones to use when describing this very likable, brilliantly acted, and charming movie. The performances all around are unbelievably amazing, and the supporting cast (which is also to be commended), are just as great as the main cast. The plot follows a small-town car repair shop owner who is trying to live a normal life. This isn't easy since he's got to take care of his mentally ill sister, Things get more complicated when, after losing a bet, he has to take in the eccentric cousin of one of his friends as a roommate. The film may be a tad too sappy and whimsical at times, but honestly, it's hard to really hate this film. The main performances are great, there's numerous appearances by several well known actors, and the film just makes you feel really good. Give it a look. It's a real gem.
Chris Weber
Super Reviewer
½
Fun and delightful odd-ball comedy, featuring the always brilliant Johnny Depp, whose character in this story is no less memorable than all those he has come to play after this movie was made. And with "If I could walk 500 miles" as both the intro and outro song, you just can't go wrong.
½
Joon: Don't underestimate the mentally ill. We know how to count.  Benny and Joon is basically a light comedy that turns into a drama in the last  third. It's an odd movie to say the least and the actors really pulled their characters off well. I like that the movie didn't over exaggerate the mental disability of Joon. She speaks normal and seems for the most part normal; that is until she's standing in the middle of the street, with a snorkeling mask on and holding a ping pong paddle, while stopping traffic from moving. But hey, no ones perfect. Joon is played really well by Mary Stuart Masterson. Her character is a mentally ill and very quirky girl who is taken care of by her brother Benny(Aiden Quinn). Benny's life, for the most part, is totally controlled by his sister. He has to watch her every move and when he isn't with her; he has to worry about what she is doing. Thats how is life is until Sam comes to live with them after Joon losses a pot at poker. Sam is played by the always great Johnny Depp, who is as good as ever here. He plays another character who is very whimsical and seems a little more mentally ill then Joon. He loves old movies and walks around like he's Buster Keaton or Charlie Chaplin. While I don't consider this movie to be spectacular, it is a pretty good romantic comedy. In the end it turns out to be quite touching, something that the romantic comedies of today lack. This isn't a straight romantic comedy though, as it doesn't just focus on the love life between Joon and Sam, but also on the love between a brother and a sister. Benny and Joon is a good watch for sure.
Melvin White
Super Reviewer
Benny & Joon Quotes
There are no approved quotes yet for this movie.