Beneath the Valley of the Ultravixens
(1979)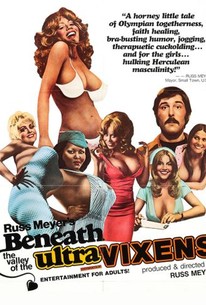 AUDIENCE SCORE
Critic Consensus: No consensus yet.
Beneath the Valley of the Ultravixens Photos
Movie Info
Like most of cult director Russ Meyer's later films, his final ode to the superhuman bosom largely dispenses with plot in favor of episodic sexual sight-gags. The ostensible storyline, narrated by Stuart Lancaster in hilarious deadpan style, deals with the bedroom hijinx of small-town America -- in this case the fictitious community of Rio Dio, Texas. Junkyard worker Lamar Shedd (Ken Kerr) is in trouble with his sexually ravenous wife Lavonia (Francesca "Kitten" Natividad) because he can only achieve satisfaction through unconventional openings. While Lavonia proceeds to bed down the local garbageman (Pat Wright) and others with more standard tastes, Lamar is put through a series of increasingly silly "cures," including a visit to a chainsaw-wielding gay dentist (Robert Pearson). Eventually, a radio faith-healer with enormous breasts (Anne Marie) gets him back on the right track. The amazing June Mack, who looks like she stepped straight out of a Robert Crumb cartoon, is the film's highlight as Kerr's insatiable black employer, Junk Yard Sal. The usual comic fight scenes are augmented here with different colors of blood for each character, but the high-voltage action of many earlier Meyer films is absent, as he was obviously trying to keep up with the booming porn market by including as many naughty close-ups as possible.
News & Interviews for Beneath the Valley of the Ultravixens
Critic Reviews for Beneath the Valley of the Ultravixens
Audience Reviews for Beneath the Valley of the Ultravixens
As the recycled title indicates, "Beneath the Valley of the Ultra-Vixens" is director Russ Meyer in self-parody mode. Roger Ebert (yes, that Roger Ebert) co-wrote the screenplay under the name "R. Hyde," but don't assume this means the film doesn't stink. Because it does. Ebert did have to string quite a few words together between sex scenes, due to recurring spiels by an evangelical radio announcer (Anne Marie) and a droll narrator (Meyer veteran Stuart Lancaster). But the story is junk. Lamar (Ken Kerr, a Jeff Foxworthy type) is married to buxom nymphomaniac Lavonia (Kitten Nativdad), but can't get himself interested in anything but anal sex. The resulting arguments lead to both partners chasing gratification elsewhere. Other humping cretins include the staff of a junkyard, a gay dentist, his bisexual nurse, a door-to-door lingerie salesman, a horny garbageman and an old man who craves sex in a coffin. Meyer himself appears at the end, taking over the narration when Lancaster finally exits to grab some lovin' for himself. It's dicey to call this film "pornography" -- the sex is more graphic than in early Meyer works, but this is still an old-fashioned skin flick. The couplings are far too cartoonish to be erotic (the men tend to go cross-eyed when they orgasm, which tells you all you need to know about the film's subtlety) and, while there are a few shots of erect penises and lots of close-ups of Natividad's pubic bush, the action is not really explicit. Of course, this is a Russ Meyer movie so there are enormous, bouncing breasts galore. The dubious treats also include some tasteless sound effects, one winceable moment of a hot light bulb applied to someone's scrotum and a baffling motif of injured men bleeding from the mouth in impossible colors. I was ready for the film to end after 10 minutes, but I stuck it out.
Eric Broome
Super Reviewer
Beneath the Valley of the Ultravixens Quotes
There are no approved quotes yet for this movie.