Beneath The Planet Of The Apes
(1970)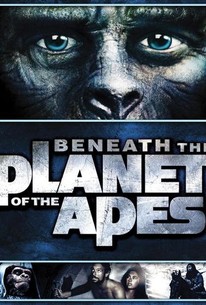 Beneath The Planet Of The Apes Photos
Movie Info
Sometime after the events of the first Planet of the Apes, the climax of which is repeated frame for frame at the beginning of this sequel, another set of astronauts arrives on the far-future Earth that is the titular planet. This time it's Brent (James Franciscus) who survives the crash landing and learns that evolved simians have taken over the world, post-apocalypse. After hooking up with Nova (Linda Harrison), the mute, fur bikini-clad beauty who spent the first film being squired by astronaut Taylor (Charlton Heston), Brent confers with Zira (Kim Hunter) and Cornelius (David Watson, giving Roddy McDowall his only break during the five-film series), the ape scientists whose adherence to scientific principles makes them friendly to the possibility of intelligent human life. Something of a military coup has taken place among the apes, who dispatch an army to the desolate "Forbidden Zone" where Taylor has coincidentally disappeared. With the apes and the humans both rooting about in the ruins of 20th century civilization, it's only a matter of time before they all find out what happened to the other survivors of the nuclear holocaust. ~ Brian J. Dillard, Rovi
News & Interviews for Beneath The Planet Of The Apes
Critic Reviews for Beneath The Planet Of The Apes
Audience Reviews for Beneath The Planet Of The Apes
½
In one of the biggest sequel letdowns I have ever seen, "Beneath the Planet of the Apes" follows another astronaut who crash lands on the same planet as Taylor from the first film while searching for him. He learns about the planet's true identity very quickly and the first half just feels like it borrows heavily from the script of the first. It is very lazy screenwriting and when they eventually do explore beneath the planet, it just becomes bizarre and laughable. I did not care what happened to any of these characters, because their motivations are manipulated throughout and you cannot latch onto anything that is happening. I really wanted to like this film, but it just flat out drops the ball. Terrible writing, horrible effects, and lukewarm performances, "Beneath the Planet of the Apes" is not worth your time at all. Although I do applaud a few nice touches, this film is a piece of garbage.
½
Decent first sequel to the Planet Of The Apes. Beneath The Planet of the Apes isn't as solid as the first film in the series, which is by far one of the all time Sci-fi classics of the genre. This sequel had a lot of potential, unfortunately compared to the first film; this is a film that is quite disappointing considering how good the first film is. This film is mildly entertaining. But like I stated, this film is disappointed especially for the fact that it follows a timeless classic film. The filmmakers tried to outdo the first film with this film, and ended up with mixed results. The film is entertaining, and has some decent performances, but overall there's something missing to really make this an awesome Apes movie. The films story could have been better, and this is a step down from the first film. Despite the good cast, director Ted Post has a disappointing script to work with, and can't direct this good cast into doing a good film. The result is a decent entertaining film. But right from the start, you realize that Beneath The Planet Of The Apes isn't a standout sequel, and it's only decent, never great. This film could have been a wonderful sequel, but the studio seemed to rush to produce a sequel to cash in on the success of the first, and instead of taking their time with a great idea, they only did half a good job, and the scripts limitation definitely show on-screen.
Cornelius: If you are caught by the gorillas, you must remember one thing. John Brent: What's that? Cornelius: Never to speak! John Brent: What the hell would I have to say to a gorilla?
Aaron Neuwirth
Super Reviewer
Beneath The Planet Of The Apes Quotes
There are no approved quotes yet for this movie.