The Benchwarmers
(2006)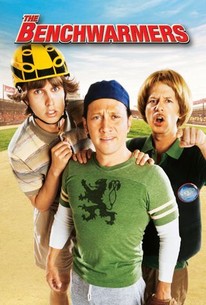 Movie Info
For anyone who's ever been picked on, put down or pushed around, your heroes are here! Rob Schneider, David Spade, and Jon Heder (Napoleon Dynamite) star as three older guys who know what it's like to be bullied. After catching some nasty neighborhood kids picking on a friend's son, they strike back by forming a three-man baseball team to challenge the state's best youth teams. Now, cheered on by every nerd, geek, and misfit in town, these underdogs are about to have a field day in this slapstick hit comedy from the director of Big Daddy and Happy Gilmore and producer Adam Sandler. -- (C) Sony
News & Interviews for The Benchwarmers
Critic Reviews for The Benchwarmers
Audience Reviews for The Benchwarmers
It has its funny moments that'll leave you wondering how stupid they were to do those things, but the Benchwarmers is no home run. The plain gags and stupid humor are a double to get this film out of the game. 3/5
Eugene Bernabe
Super Reviewer
The worst "comedy" that I ever saw these days.
Lucas Martins
Super Reviewer
The Benchwarmers had some minor laughs here and there, but as a memorable comedy it fails to stand out, and doesn't withstand multiple viewings. The comedy factor falls apart after awhile, and you realize how sloppily written this comedy is. The jokes are sometimes comical; however most of them fall flat. After awhile you realize that this comedy isn't what it's supposed to be, and that's a good comedy. Everything about this film is forgettable to say the least. I did laugh, but The Benchwarmers is a mediocre comedy with washed up comedians that are very, very hit and miss. Go into The Benchwarmers with an open mind, just so you won't be disappointed. I did, and though I laughed, I still felt that this film wasn't good. If you want a mindless forgettable comedy, then this is the film to watch. Don't expect anything truly great like Superbad or The Hangover, because you will be very disappointed. Nothing is ever accomplished with this film, and the end result is a film that struggles with trying to you laugh. The film could have worked, if the script was reworked slightly and the cast was better. This is the type of film worth watching only once. The film doesn't stand out, and it has minor laughs throughout, but never anything to really laugh out loud to. If you want to watch a great comedy, this isn't the one to watch. The Benchwarmers is a mediocre comedic outing, one that has limited potential that shows its flaws on-screen.
The Benchwarmers Quotes
There are no approved quotes yet for this movie.