Bella (Beauty)
(2006)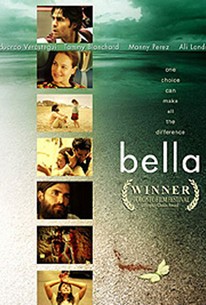 TOMATOMETER
AUDIENCE SCORE
Critic Consensus: Critics labeled Bella as a simplistic and mostly pedestrian, but positive word of mouth gave this tiny indie surprising theatrical legs.
Movie Info
A man whose life is about to be changed forever discovers that sometimes it takes losing it all to finally appreciate the things that truly matter in director Alejandro Monteverde's emotional tale of self-discovery.
News & Interviews for Bella (Beauty)
Critic Reviews for Bella (Beauty)
Audience Reviews for Bella (Beauty)
Quite a slow film, but engaging and moving. The cast are all fantastic, especially Tammy Blanchard as Nina. It reminded me a little of the Before Sunrise and Before Sunset films. Jose is an ex sports star who has fallen on hard times and is now working in his brother's Mexican restaurant as a chef. When a co worker, Nina, is fired for being late, he goes after her and the pair spend the day together getting to know each other. Ultimately he does something very unselfish to help Nina, and also to ease his own guilt about past events. I actually thought this was a foreign film, but it is set in the US, and though there is a little Spanish in it, the majority is in English, so don't be put off if you're one of those people who don't like to read subtitles.
Nicki Marie
Super Reviewer
Another 4-star movie derailed by a nicely pat ending. Every shot is visual poetry, and the relationship between Nina and Jose is tenuous and bittersweet. Eduardo Verastegui with the beard and crazy hair looks almost exactly like Jim Caviezel - it's astounding. I was in love. Tammy Blanchard is gritty and endearingly aloof. She's got a great mouth for this role - a tough pout. Charming supporting characters, nice flashback/fantasy editing, effective mix of languages. The end leaves too many questions though. Where does Nina go for four years? Okay that's only one question, but without the answer and the turning point of Jose's choice, it just seems like a tacked-on happy ending.
Alice Shen
Super Reviewer
I liked some little things like the "future" inside the present acting. The "insides" are not only from memories, but also from what will happen months after the scene we are seeing. In the other hand, these scenes could also be imagination of some of the two characters and we actually just don´t know if they happened or not. There are two examples: when Nina is supposed to make an abortion, gives up and Jose is there to support her; or in the end, when he adopts her child. This last scene seems real and I think we all take it as real, but it could not be... maybe in another film. Despite that, everything is too obvious end expected: it´s clear that it will happen a car accident and it´s even clear when we see Jose, now with a long beard, watching a little girl at the beach, that some tragedy happend and that it has something to do with a child. Also, Eduardo Verástgui/Jose didn´t convince me at all! Predictable and not authentic.



Rubia Carolina
Super Reviewer
Bella (Beauty) Quotes
There are no approved quotes yet for this movie.