Being There
(1979)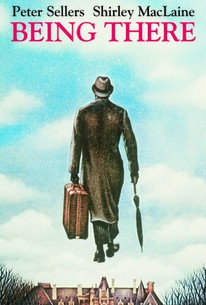 TOMATOMETER
AUDIENCE SCORE
Critic Consensus: Smart, sophisticated, and refreshingly subtle, Being There soars behind sensitive direction from Hal Ashby and a stellar Peter Sellers performance.
Movie Info
Hailed as a genius for his simplistic approach to life, an aging gardener with a childlike naïveté rises, by accident, into the game of politics. The man is soon presented as a possible Presidential candidate although no one knows his true background.
News & Interviews for Being There
Critic Reviews for Being There
Audience Reviews for Being There
Hal Ashby somehow manages to rein in the usual all-over-the-mapness of Peter Sellers to deliver this curious, restrained and delightful rumination on a modern day cypher, a blank who cheerfully accepts any definition ascribed to him. Jerry Kozinski's fable rocks as our Nowhere Man somehow stumbles into the very halls of power, into the White House, and all w/o a clue or a care. You decide what's really being said.
Kevin M. Williams
Super Reviewer
½
An inventive, imaginative, brilliant little film concerning a simple gardener (Peter Sellers) who knows nothing of the outside world, but is forced out one day and through an odd series of circumstances, ends up being a close personal advisor to the President of the United States (Jack Warden). There is quite simply nothing really like this film, as it takes the subject of satire to a whole new level while Sellers naïve, lovable character remains the anchor that drives the comedy and plot forward. This is a film full of wonder, and the great Sellers turns in one of his most skilled performances ever (in what would also be one of his last before his sudden death). For some, this movie will totally go over your head and you will not understand the comedic aspects that make it a truly special gem, but for others this will really connect. The ending is also absolutely genius too, definitely one of the best endings of all-time. Highly, highly recommended.
Dan Schultz
Super Reviewer
Chance has spent his entire life working as a gardener for a millionaire. He has never left the estate. never been for a ride in a car, and all he knows of the outside world is what he has seen on television. That's all he does when not gardening- watch tv. When his benefactor dies, he is thrust out into the world, which becomes a strange and wonderous journey for him, made all the more curious by the fact that he's middle aged and still retains a great sense of childlike innocence and naivety. This film is based on a novel (with the screenplay penned by the book's author), and it's quite an odd and interesting piece of work. It's also the sort of thing that I think only Peter Sellers and Hal Ashby could really sell and make work. It takes the right kind of touch to pull such a weird thing off, but I'm happy to say they get the job done. The film is a journey of discovery, as well as a sharp satire about dependence on the media, and just how much it rules our lives. It's a funny film, but also a touch sad. It's also quite beautiful in a poetic kinda of way.In a lot of ways, it's kinda of a fantasy, though it's mostly pretty well (for the most part) grounded in reality. Well, if you can buy into the premise that is. I enjoyed this film a great deal, but as of now, I don't think this is the masterpiece that others make it out to be. I think I'd need to see this a few more times and really absorb it before I could make that call myself. For the most part I really bought into it, though I had a hard time totally accepting the way people react to Chance and his behavior and way of life. The perforamnces and cinematography are what really make it work though. Sellers is absolutely brilliant, and I can't think of anyoen else who could pull this off. SHirley MacLaine is also quite good in her role of a woman who takes a liking to Chance. There's some great scenes throughout, but my favorite is the long sequence that shows Chance's first steps out into the larger world abroad. That sequence alone is what had me sold on this movie. All in all, a fine piece of work, but I'm not really 100% sure what I make of it.. It's odd, and I don't quite get it, yet it means no harm, and is pretty sharp when trying to make a point about life and society.
Chris Weber
Super Reviewer
Being There Quotes
There are no approved quotes yet for this movie.