Behind the Mask: The Rise of Leslie Vernon
(2006)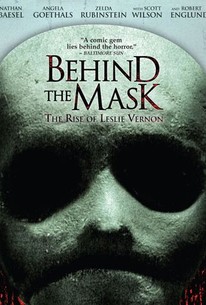 Behind the Mask: The Rise of Leslie Vernon Photos
Movie Info
On the surface, Leslie Vernon seems like your average small town, nice guy. He has goals, ambition and aspirations to follow in the footsteps of his long-time hero Freddy Krueger, Michael Myers and Jason Vorhees, and be the world's next great psycho-slasher. A true self-promoter, Leslie gives documentary filmmaker Taylor Gentry and her crew exclusive access to his life as he plans and executes his next great reign of terror over the sleepy town of Glen Echo, all the while deconstructing the constructions and archetypes of the horror genre for them.
News & Interviews for Behind the Mask: The Rise of Leslie Vernon
Critic Reviews for Behind the Mask: The Rise of Leslie Vernon
Audience Reviews for Behind the Mask: The Rise of Leslie Vernon
Behind the Mask is a brilliant low budget Slasher film that reinvents the wheel and offers genre fans something truly original to watch. Successfully combining traditional genre elements with Black Comedy, this film is a refreshing take on a classic genre of the horror medium. Filmed as a mockumentary, it follows a film crew that is documenting Leslie Vernon, a murderer who plans his revenge for what the town did to him years ago. Using Clichés to his own advantage, director Scott Glosserman crafts a movie that is an absolute must see for die hard horror fans. The mix of comedy and horror work extremely well and complement each other effectively well to create something truly memorable. The cast do a fine job in their performances, and the strength of the film lies in the fact that it can go from being pretty funny to a dark, nasty horror film that delivers the goods. That's rare for a filmmaker to do such a thing, but Glosserman does it effortlessly. The first act of the film succeeds at establishing the humor and legend and dreams of Leslie Vernon as he wants to join the greats of Jason Voorhees, Freddy Krueger and Michael Myers. There are plenty of funny moments to be had in the first thirty minutes of the movie, but towards the end, the film takes a different approach and travels familiar ground and becomes a straight up Slasher film with plenty of effective kills to delight genre fans. Any fans looking for something truly original ought to check out this low budget gem, it is sure to become a classic in the genre and it brings some much needed originality to a somewhat stale genre that is overdone with remakes. Behind the Mask joins the likes of the Hatchet films and Laid to Rest movies as standout features that bring a modern twist to a classic genre.
Nice guy-next-door invites film crew over to document the fulfillment of his own little personal dream: to one-up Freddy Kruegar, Michael Myers and Jason Voorhees. Is he kidding? Those guys are unstoppable killing machines. That's the comic part. But he's not kidding. And that's horror.
Kevin M. Williams
Super Reviewer
Smug self-satisfaction is what one takes away from this glib, unfunny mockumentary that might have been fertile territory for Christopher Guest to lampoon, but the filmmakers misunderstand that just because you namedrop what your target that doesn't necessarily mean you are above it. Nathan Baesal as Leslie is a preening Jim Carrey clone that projects absolutely no menace and is rarely humorous. When Leslie is instructing his interviewers on "industry terms" like a "survivor girl", we are vexed by the perceived " hipster smartness" of the film. Once the film segues into a splatter flick, Leslie has already established himself as a camera-ready buffoon and none of what transpires is spine-tingling, it's just transparent and yawn-inducing. One of the worst films I've seen during this October marathon.
Cory Taylor
Super Reviewer
Behind the Mask: The Rise of Leslie Vernon Quotes
There are no approved quotes yet for this movie.