Before Night Falls
(2001)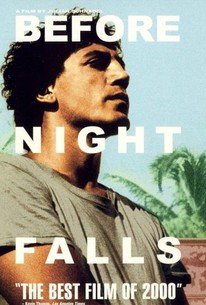 TOMATOMETER
AUDIENCE SCORE
Critic Consensus: An impressionistic, fragmented look at Reinaldo Arenas, Before Night Falls' imagery manages to evoke a sense of the writer's artistry, and Bardem's strong performance holds the film together. Finally, a biopic done well.
Before Night Falls Photos
Movie Info
This is the story of Cuban poet and novelist Reinaldo Arenas. Raised in the Oriente Province of Cuba in the 1940s, Arenas began his life-long love of the sea and water. Leaving home as a young adolescent, he moves to Havana where he finds himself swept up in the revolutionary spirit and joins a circle of writers and artists. His first novel, "Singing from the Well," is published in Cuba, but as Castro's oppressive regime gathers force, Arenas' homosexuality and political writing make him a target. After being falsely accused of molestation, Arenas is arrested and imprisoned at El Morro. Eventually released from prison after dehumanizing treatment, Arenas flees Cuba in the 1980 Mariel Harbor boatlift. After moving to New York with his friend Lazaro Gomez Carilles, Arenas' hopes for a new life are destroyed by AIDS, and he dies in 1993, at the age of 45.
News & Interviews for Before Night Falls
Critic Reviews for Before Night Falls
Audience Reviews for Before Night Falls
What a magnificent film. Julian Schnabel pulled off a real tour de force with "Before Night Falls," his second film. Gloriously artistic and gloriously humane, it tells the tragic but also uplifting story of Cuba's boy genius, the poet and novelist Reinaldo Arenas, who was brutally mistreated by the bizarrely homophobic (one might even say proto-fascist) regime of Fidel Castro, heroically escaped, and then was mowed down by AIDS in the first wave of infections in the late 1980s. Schnabel and lead actor Javier Bardem worked together beautifully to bring this man's story to life. Bardem is radiant with the joy of a young gay man coming out of the closet and feeling love for the first time. I presume Bardem is straight. To see a straight man find it with himself to feel this is tonic for the soul. Schnabel I believe is also straight. For two straight men to come together to tell the story of this flamboyant gay man and to do it in such a tender and loving way truly amazes. Some straight men really can feel deep in their soul the anguish and gladness of gay men. Astonishing. The only sadness to me is that in the past decade Schnabel has not been able to produce more work of this caliber. But we still owe him a real debt of gratitude for giving us this treasure. And my appreciation for Bardem just keeps getting greater. He is moving near the top of my list of Greatest Male Screen Actors in the World. He's got Marlon Brando in him, mixed with a delight in the world that reminds me at times of a butterfly. What an extraordinary mixture. It's as if he's both straight and gay.
William Dunmyer
Super Reviewer
When it comes to biopics, there are very few that stand out as masterpieces or true representations of the real-life counterparts. However, this manages to do just that. Javier Bardem's interpretation of Reinaldo Arenas is amazing. To hear about the real life counterpart and then compare it to the film, it's very hard to tell the difference. The parts of his struggle as a writer and as a person are extremely touching and an original way of approaching a coming of age story (which this is in a lot of ways). The cinematography is amazing, giving Cuba such a beautiful landscape. All the little cameos from actors such as Sean Penn and Johnny Depp are a nice touch, you can tell that they were fans of Arenas and his writing. It's just an all around great movie.
Conner Rainwater
Super Reviewer
½
The narrative style is captivating, Julien Schnabel doesn't shy from showing the virtues and the vices of Reinaldo Arenas's literary circle. Arenas, a Cuban poet, confronts the Revolution he once believed in when persecution against homosexuals in Cuba becomes blatant. In a very Schnabel fashion, we find a character struggling to remain human in the midst of de-humanization, crisis, and humilliation. And not just any character, a poet. There is always the notion that tragedy and comedy, fun and pain, are inseparable and his life is irrefutable testament to it. Javier Bardem's performance is very powerful, sefless, and beautiful. There are appearances by other actors, more famous than he was at the time, but this is clearly his film.
Before Night Falls Quotes
There are no approved quotes yet for this movie.