Bedtime for Bonzo
(1951)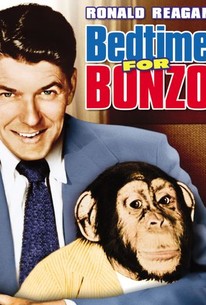 Movie Info
Forget what you've been led to believe: Bedtime for Bonzo is a most enjoyable film, and Ronald Reagan is not outacted by the chimpanzee. Reagan is cast as psychology professor whose reputation is sullied by the fact that his father was a convict. To prove that environment rather than heredity dictates a man's personality, Reagan uses Bonzo the chimp to test out his theories. The hairy little guy seems to be responding to the kindnesses lavished upon him--and then he is accused of robbery. Reagan nearly goes to jail in Bonzo's stead, but everything turns out all right in the end (we're not giving anything away; after all, everybody knows that there was a Bonzo Goes to College in 1952). While it's an uphill climb, Ronald Reagan and his able costars Diana Lynn and Walter Slezak manage to keep Bonzo from running away with the picture. And yes, director Fred DeCordova is the same guy who produced Johnny Carson's late-night show in the 1980s and 1990s.
Critic Reviews for Bedtime for Bonzo
Audience Reviews for Bedtime for Bonzo
The Ronald Reagan classic, Bedtime for Bonzo is a wacky goofball comedy that's full of laughs. When Professor Peter Boyd's father-in-law to be objects to his heredity, Peter attempts to prove nurture trumps nature by raising a chimp named Bonzo to have good morals; and to assist him he hires a nanny to care for Bonzo as she would a child. Reagan gives a strong performance as a straight-man and Diana Lynn has a natural charm and charisma. But of course Bonzo has to carry the film, and you couldn't ask for a cuter, funnier chimp than Peggy (aka Bonzo). Most of the comedy relies on physical slapstick, and the writers come up with a number of wild and crazy antics for the chimp to get into (without seeming overly contrived). For what it is, Bedtime for Bonzo is incredibly entertaining and fun.
Dann Michalski
Super Reviewer
Bedtime for Bonzo Quotes
There are no approved quotes yet for this movie.