Because I Said So
(2007)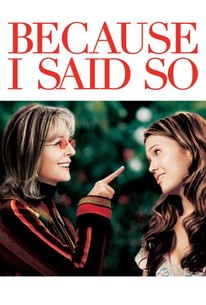 Movie Info
Diane Keaton stars as a unconditionally loving, but meddling, mother whose vain attempt to prevent her insecure youngest daughter from repeating the same mistakes that she made leads to a series of comic misunderstandings in director Michael Lehmann's affectionate family comedy. When it comes to the topic of motherhood, Daphne Wilder (Keaton) has seen it all. Her eldest daughter, Maggie (Lauren Graham), is a highly respected psychologist and her middle daughter, Mae (Piper Perabo), is both sexy and smart, but youngest Milly (Mandy Moore) just can't seem to get things right no matter how hard she tries. Recognizing that the romantic exploits of her charming-but-struggling youngest always seem to end in tears, concerned mother Daphne vows to find Millie the perfect man. Though she always means well, Daphne's misguided attempt to set her daughter up by placing a carefully worded personal ad proves once and for all that even the most well-intending of mothers can sometimes overstep their boundaries. ~ Jason Buchanan, Rovi
News & Interviews for Because I Said So
Critic Reviews for Because I Said So
Audience Reviews for Because I Said So
Not funny. Not romantic. Just sappy and superficial. Not worth watching.
This is just a really nice chick flick about 3 sisters, (Lauren Graham, Mandy Moore and Piper Perabo). They have a slightly controlling mother, Daphne, (Diane Keaton), who has been single herself many years and has become worried about Millie (Mandy Moore) and the bad choices she keeps making in men (her sisters are happily married). Worried that Millie will end up alone like herself, Daphne secretly writes an online personal ad and then interviews all the men. Her choice is Jason, a slightly arrogant professional guy (lawyer maybe? Can't remember), but she also meets a charming musician and single dad, Johnny, by chance. Daphne sets it up so Millie and Jason can meet, without Millie realizing her mum set it up, but Johnny fixes it so he also "Accidently" meets Millie. The rest of the movie is Millie trying to figure out which guy she wants, and the fury when she enevitibly finds out what Daphne did. Okay, it's a no brainier, but I enjoyed this and Millie is a likeable, though flawed character, digging herself into a mess by sleeping with both the guys. Daphne is also likeable, and sympathetic in her way. A nice story about female relationships with a few laughs and some beautiful looking cakes.
Nicki Marie
Super Reviewer
I really liked this film. Diane Keaton is always the best type of actress to play a mother as she's extremely funny. Both of the guys were good to look at and even though you genuinely knew
Bethany Murphy
Super Reviewer
Because I Said So Quotes
There are no approved quotes yet for this movie.