Beautiful Darling
(2011)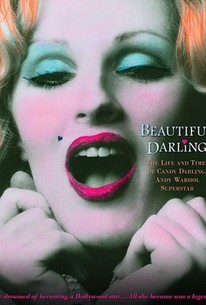 Movie Info
Recapturing the excitement of a long lost New York City, Beautiful Darling tells the story of transgender pioneer Candy Darling, a star in the constellation that was Andy Warhol's Factory. By the mid-sixties Jimmy Slattery, born in a Long Island suburb of Massapequa in 1944, had become Candy, a gorgeous blond actress and throwback to Hollywood's golden age. This persona won her starring roles in two Warhol movies, parts in mainstream films, and a lead role in Tennessee Williams' play. Her ethereal beauty attracted such tastemaking photographers as Robert Mapplethorpe, Cecil Beaton, Richard Avedon and Peter Beard. She was the inspiration behind two of Lou Reed's best known songs, Candy Says and Walk on the Wild Side, and was one of the most unusual and charismatic fixtures in the explosive downtown, underground scene of late 1960s/early '70s New York.
Critic Reviews for Beautiful Darling
Audience Reviews for Beautiful Darling
This is a documentary about the drag queen/transsexual performer Candy Darling, who was one of Andy Warhol's Superstars. Most of the film is relayed through interviews conducted by her friend Jeremiah Newton, who takes up almost all of the film as he mugs for the camera. I don't believe his sentiments are untrue to the spirit of Candy, but the film shouldn't have featured him so heavily. The film also provides a lot of footage of Candy in various films, backstage at comedy clubs, and there are voice overs (Sevigny) that read from her diaries. From the many interviews there's a decent enough picture of who she really was and what she wanted, but there wasn't a lot of context, historically speaking. For someone unaware of Warhol's oeuvre, this film is not very informational. There's no link between Warhol and Candy, except for when those interviewed express Candy's dependency on the icon for her continued fame. Otherwise it's unclear how Candy became Candy other than from the words of Newton. We don't know how she made it to New York, how she transformed herself, or what her relationship with Warhol was like. While these aspects of her story may not be what's important to understand her as a person, they need to be shown to the audience so we understand the film's narrative.
Spencer S.
Super Reviewer
Beautiful Darling Quotes
There are no approved quotes yet for this movie.