Beautiful Boy
(2018)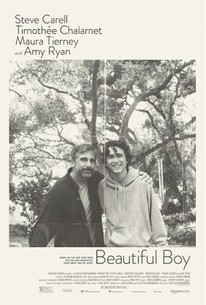 TOMATOMETER
AUDIENCE SCORE
Critic Consensus: Beautiful Boy sees Timothée Chalamet and Steve Carell delivering showcase work that's often powerful enough to make up for the story's muted emotional impact.
Movie Info
Based on the best-selling pair of memoirs from father and son David and Nic Sheff, Beautiful Boy chronicles the heartbreaking and inspiring experience of survival, relapse, and recovery in a family coping with addiction over many years.
News & Interviews for Beautiful Boy
Critic Reviews for Beautiful Boy
Audience Reviews for Beautiful Boy
BEAUTIFUL BOY (2 Stars) Ugh. This isn't even a movie. There's no real story. It just keeps repeating itself to death and then ends. Yes, it mirrors the cycle of addiction that plague so many people, but that doesn't make for good storytelling. Timothée Chalamet does some great work when portraying his character's addiction to heroin, but I never believed him as a meth addict. There's a distinction that I don't think he quite captured. Steve Carell here has that annoying high pitch in his voice we typically see from Tom Cruise when he plays an end-of-his-rope character. Major points deducted for the terrible choice to edit a montage to "Sunrise/Sunset" from FIDDLER ON THE ROOF. Who thought that worked? I want names!!
Glenn Gaylord
Super Reviewer
It felt like it was taking this a long time to really find its groove and then I checked my phone to see where we were time-wise and it was an hour and a half in. Needless to say, Beautiful Boy has no groove to be found. Having not read the source material this may immediately mean less to me, but the structuring of this story as its done in the film doesn't help. It's not hard to see what the film is trying to do in telling the two parallel perspectives of the father and the son caught in this battle with addiction, but in doing so what results is a disjointed mess of a movie (at least upon first watch). We never spend long enough periods with either of the characters to garner any real sympathy for them-not until the end anyway when Carell brings it all home. It's kind of a weird movie too, but worse is the fact it's a boring weird movie. Every single aspect of these people's lives revolves around coping with addiction and addiction itself, but there has to be more in order to have the audience invest in these lives. I adore Steve Carell and Timothï¿ 1/2 (C)e Chalamet seems like a genuinely nice, cool, and grateful kid, but even their strenuous performances feel exhausting and void of any tangible pathos.
Philip Price
Super Reviewer
The story's impact is almost diluted by the film's editing (with its jumps in time and flashbacks within flashbacks) and questionable choice of music, which makes it kind of emotionally stiff, even though that is compensated by two amazing performances by Timothée Chalamet and Steve Carell.
Carlos Magalhães
Super Reviewer
Beautiful Boy Quotes
There are no approved quotes yet for this movie.