Beau Geste
(1939)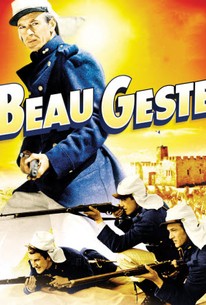 Movie Info
This second of three movie versions of P.C. Wren's adventure novel Beau Geste is a virtual scene-for-scene remake of the 1927 silent version. We open on the now-famous scenes of a remote, burning desert fort, manned by the dead Foreign Legionnaires, then flash back to the early lives of the Geste brothers. As children, the Gestes swear eternal loyalty to one another and to their family. One of the boys, young Beau (played as a youth by Donald O'Connor), witnesses his beloved aunt (Heather Thatcher) apparently stealing a valuable family jewel in order to finance the Geste home; Beau chooses to remain silent rather than disgrace his aunt. Years later, the grown Beau (Gary Cooper) again protects his aunt by confessing to the theft and running off to join the Foreign Legion. He is joined in uniform by faithful brothers John (Ray Milland) and Digby (Robert Preston), who in turn are pursued by a slimy thief (J. Carroll Naish). The crook is in cahoots with sadistic Legion Sgt. Markov (Brian Donlevy, in one of the most hateful portrayals ever captured on celluloid), who is later put in charge of Fort Zinderneuf, where Beau and John are stationed. When the Arabs attack, Markov proves himself a valiant soldier; it is he who hits upon the idea of convincing the Arabs that the fort is still fully manned by propping up the corpses of the casualties at the guard posts. Beau is seriously wounded, and while the greedy Markov searches for the jewel supposedly hidden on Beau's person, he is held at bay by loyal John. The suddenly enervated Beau kills Markov, then dies himself--but not before entrusting two notes to John, one of which requests that John give Beau the "Viking funeral" he'd always wanted (this is why the fort is in flames at the beginning of the film). After the battle, Digby Geste, a bugler with the relief troops, comes upon Beau's dead body, and appropriates the notes. As it turns out, John Geste is the only one who survives to return to England. He gives his aunt Beau's letter, which explains why Beau had confessed and run off--"a 'beau geste', indeed" comments his tearful aunt. No one missed nominal leading lady Susan Hayward in this essentially all-male entertainment. For years available only in muddily processed or truncated versions, Beau Geste was restored to its pristine glory by the American Film Institute in the late 1980s.
Critic Reviews for Beau Geste
Audience Reviews for Beau Geste
½
From perhaps the best year for film ever,1939, comes this wooly, bully adventure tale of brotherly love and the French Foreign Legion as three guys match wits with a sadistic commander out in the mysterious desert sands. Gary Cooper, Ray Milland and Robert Preston are the brothers, joined to the Legion of Lost Men to save the family at home, and always seem a great bunch of guys to be around. Brian Donlevy steals the film though as the sargeant from hell, the bad guy, eating every scene he's in. They literally don't make them like this anymore, I don't know why.
Kevin M. Williams
Super Reviewer
A pretty good story, but the movie is kind of boring too. I've never really cared for military stories, but this one has more to it. It's a pretty good movie.
The year 1939 was a pennicle point in cinema. 1939 brought out a lot of great films and the action-adventure spectacle "Beau Geste" is one of them. In the best-known version of novelist Percival Christopher Wren perennial, Gary Cooper, Ray Milliand, and Robert Preston play Beau,John,and Digby Geste,three inseparable adventurous brothers in search of adventure which one of them steals their benefactress's family jewel,it's off to the French Foreign Legion for all. A fairly deadly early flashback introduces the brothers as children-though it's the only time you'll ever see Donald O'Connor playing a younger version of Cooper. The movie really kicks into gear when the brothers enlist into the brutal stages of unjustly war. Directed by the great William A. Wellman,the supporting cast features future Oscar winners Broderick Crawford and Susan Hayward. Oscar nominee Brian Donlevy is excellent and so damn good as Sgt. Markloff that some think he should have taken the Oscar for Best Supporting Actor award for his riveting performance. Worth seeing.
Mister Caple
Super Reviewer
Beau Geste Quotes
There are no approved quotes yet for this movie.