Magical Mystery Tour
(1967)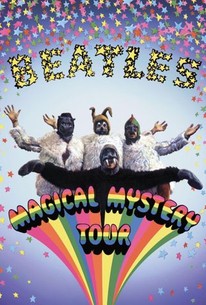 Magical Mystery Tour Photos
Movie Info
After the success of the Sgt. Peppers LP, the Beatles decided to hire a psychedelic bus, take a trip into the English countryside, and film the results, no matter how bizarre or boring. With a motley cast of characters, the group basically tramps about the landscape with occasional music cues to give the film a bit of flow. Though Magical Mystery Tour is an interesting document of the Beatles psychedelic period, its cinematic function is negligible. ~ John Bush, Rovi
News & Interviews for Magical Mystery Tour
Critic Reviews for Magical Mystery Tour
Audience Reviews for Magical Mystery Tour
½
"I am he as you are he as you are me and we are all together; see how they run like pigs from a gun, see how they fly. I am the Eggman, they are the Eggmen, I am the walrus, goo-goo-g'joob!" Well, Scooby, I reckon there's no mystery regarding who the Eggman/walrus is... except for those goofballs who get all worried about how John Lennon seemed to be the walrus, but identified Paul McCartney as the walrus in "Glass Onion"... and about how Eric Burdon actually came out and proclaimed that because of his fondness of breaking eggs over naked women, he was given the nickname Eggs and was therefore the Eggman, even though the walrus identified himself as also the Eggman... who was also "they". ...Jeez, that is actually a pretty intricately well-thought out mystery, and I was about to say that the reason why I specifically quoted that song was because I figured it should warn you about how stupid this passion film project by the Beatles had the potential of being, seeing as how the Beatles can come up with some pretty stupid stuff while on acid, but now I see that the Beatles are capable of simply using silliness to mask deeply elaborate, thought-provokingly abstract efforts... something that this film is decidedly not. That being said, while this film is simply dumb, it's entertaining, yet that didn't stop the people who first saw it from giving scathing reviews, possibly because they were disappointed when the film turned out to be so short that by the time the acid kicked in, the film was over and the viewers were stuck with "The Square Pig" to trip out to. Hey, I thought this film was alright, and I'm not acid, and if you don't believe me, I have so much non-LSD occupied time on my hands that I just researched interpretations of "I Am the Walrus" and what came on BBC One after this film premiered on Tuesday, December 26th, 1967. Well, in all fairness, again, this film doesn't take too much of you're time, and yet, this film still has plenty of time to work in more than a few undeniable flaws that I can see critics really thinking about before the acid kicked in. Look, I'm not saying that this film is a mess, but it's not even filmed all that well, or at least in retrospect, and even then, while this film could look worse, even by today's standards, it had to have been difficult for viewers of the late '60s to deny the weak definition and bland lighting behind Daniel Lacambre's cinematography, whose framing's sloppiness had to have been immensely more difficult to deny, as Lacambre's framing feels occasionally incompetently claustrophobic, staying too tight on certain things, sometimes to the point where it becomes "extra" difficult to tell what in the world is going. I suppose the filming is reasonably forgivable, at least once you get used to it, but the fact of the matter is that something as simple of cinematography comes off as kind of shoddy, yet isn't the only technical hiccup in this film, whose audio mixing will occasionally get confused in its sloppily juggling soundtracks, while Roy Benson's editing proves to be even more exhaustingly confused at times. I'm not asking for too much out of a 1960s TV film, and besides, the technical shortcomings aren't too grating, but the point is that the film is a technical mess whose limited competence add to the unnerving cheesiness that this film would practically be nothing without. Sure, a lot of the final product's entertainment value rides on the camp factor, but there are times when all of the fun and games behind watching a whole bunch of silly filmmaking hiccups and fall-flat bits of humor start to die down, leaving you to only be able to digest the corn, which doesn't always go down all that well, distancing you with awkward, over-the-top silliness that would perhaps be easier to forgive if it wasn't firmly reminding you of just how thin the film is in the first place. There's plenty that's colorful about this film's non-story, but at the end of the day, it's utterly paper-thin and fluffy, with no development or, for that matter, actual narrative focus, wandering along one set piece after another until hitting certain event shifts that are meant to resemble plot points, yet feel like nothing more obligatory beats in the process of simply wrapping this fluff fest up, thus making for an aimless structure that opens plenty of room for you to focus upon the less natural shortcomings. The film is a downright mess of an inconsequential fluff piece for late-evening television during the holidays (Happy Boxing Day, y'all!), and I guess that's alright, because the final product isn't such a huge mess that you can't enjoy it, but make no mistake, there was never to be too much going for this film, and the film ends up having a lot of flaws going for it, thus making for a final product that runs a real risk of collapsing into, at best, mediocrity. Still, while there is plenty that's wrong with this film, there's about as much that's done right, or at least in a fun fashion, and that carries the film quite a ways as a piece of entertaining filler, as well as yet another showcase of good Beatles songs. Sure, the musical numbers also get to be pretty problematic, because when they come into play, what narrative there is comes to a complete halt for the sake of aimless music videos that offer no supplementation to storytelling, just visual interpretations of Beatles songs that are often a bit too cheesy for their own good, much like the musical numbers in "Yellow Submarine", which at least had more visual flavor than this film's music videos, so, as a tribute to the Beatles' classic tunes, this film can't even get as much right as it probably should, and yet, with that said, while the musical numbers are ultimately pointless, they're pretty enjoyable by their own right, offering some colorful visuals to back songs that are generally decent, often quite good, and consistently entertaining. The musical aspects that are, of course, prominently played up in this Beatles film are rarely, if ever truly organic in their fitting into the final product, but whether they're just barely slid in or wedged in, once they've made their way into the final product, they liven things up quite a bit, though it's not like this film needs to heavily play upon classic colorful tunes in order to sustain some fair degree of liveliness. Everyone and their grandmother has, at one point or another, called the latest action-packed, thinly-drawn blockbuster plotless, but if you really want to see plotless, then check this film out, as its story is so paper-thin, it's all but impossible to see, but it is there, - or at least mimicked through a series of set pieces that tie into one central aspect, the titular "Magical Mystery Tour" - and once you find that you're able to run with it, it keeps you going, having a certain colorful, almost unpredictable and unapologetic silliness that establishes a certain degree of liveliness on paper, from which it is sprung to life by anything from relative high points in "writing" and direction, to performances that are just as colorful. I was going into this film worried that plenty of people were going to not really care about the project enough to try and deliver lines well or keep up some kind of charisma, but once you get down to the final product, while no one is an absolute delight to watch, charm is found throughout the cast, whether it be from the supporting players who make their distinct fluffy characters about as memorable as they're going to be in a film this brief and forgettable, or from the Beatles delivering their trademark dry charisma with a rich hint of lively spring. There's a certain talent on the screen that rarely, if ever abates, and that's probably the best thing that can be said about the film, though it's not enough to save the final product as decent, thus, the execution of this fluffy, but messy story must have enough to it to keep you going. Well, sure enough, while the writing and direction can be primarily blamed for the film's biggest issues, they can also be thanked as saviors of the film, because through all of the sloppiness is a script that turns in more than a few genuinely amusing jokes, or at least misguided comedic and fluffy moves that aren't so grating that you can't get a good laugh at the campiness, while Bernard Knowles' and the Beatles' direction never lets liveliness die too much, thus reinforcing the entertainment value that keep the final product alive as decent. Sure, the film is barely saved from mediocrity, but it is nevertheless carried far enough by its handful or strengths and great deal of campy entertainment value to stand as a genuinely fun piece of filler, forgettable and rocky though it may be. When the tour ends, you take away an effort that is so pummeled by technical hiccups which range from editing hiccups to questionable cinematography, cheesy and often fall-flat fluff writing, and a thin, silly and unfocused non-narrative that it stops just short of collapsing into mediocrity, which is formidably challenged enough by a good soundtrack, colorful premise, charming performances and lively direction for "Magical Mystery Tour" to ride on as a fun little fluff piece that entertains thoroughly, even if it does fall flat in plenty of areas. 2.5/5 - Fair
Cameron Johnson
Super Reviewer
½
Very campy at times. It's basically an early concept for MTV. They do videos for their songs from the album of the same name and try to string them together with a thin plot in between.
Sean Gillespie
Super Reviewer
The worst Beatles movie, of the Beatles movies which star the Beatles. The story is really much too silly, and stupid. Plus, the Beatles don't play a big enough role, which is weird. It has some funny moments, but overall it's just so-so.
Magical Mystery Tour Quotes
There are no approved quotes yet for this movie.