Be Cool
(2005)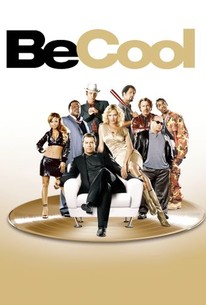 Movie Info
Underworld hipster Chili Palmer is back in the entertainment business in this sequel to the 1995 hit Get Shorty, which like the first film is based on a novel by Elmore Leonard. Gangster-turned-movie producer Chili (once again played by John Travolta) has grown tired of the screen trade, especially after his latest project turned out to be a box-office flop. Chili is looking for new horizons and thinks he may have found his niche when his close friend Tommy Athens (James Woods), a fellow mobster who runs an independent record label, is murdered by Russian gangsters. Chili takes over Athens' record company, Nothing to Lose Records, and begins courting Tommy's girlfriend, Edie (Uma Thurman). Edie is an experienced hand in record production, and together she and Chili spot what would seem to be the ideal act for their label -- Linda Moon (Christina Milian), a beautiful young woman with a powerhouse voice. Linda is stuck, however, in a going-nowhere R&B trio managed by the monumentally sleazy Raji (Vince Vaughn). Chili isn't much concerned about Linda's contract with Raji, but Raji certainly is, and the manager soon takes out a contract on Chili with the same Russian hoods who killed Tommy. Soon Chili is facing all the action he can handle between the Russian gunmen, a music mogul named Nick Carr (Harvey Keitel) who wants Chili to stay out of the business, and Sin LaSalle (Cedric the Entertainer), a successful hip-hop producer who wants Chili to pay him the 300,000 dollars he is owed by Tommy. Be Cool also features appearances by The Rock as a gay Samoan bodyguard, Andre Benjamin (aka Andre 3000 from the hip-hop duo Outkast) as a rapper who isn't very good with a gun, and Aerosmith frontman Steven Tyler as himself.
News & Interviews for Be Cool
Critic Reviews for Be Cool
Audience Reviews for Be Cool
It has a dynamic cast of actors, musicians and entertainers, but Be Cool can't deliver from the amount of starpower it possessed. The film is bland and has a giggle every now and then, but otherwise, just flat. 2/5
Eugene Bernabe
Super Reviewer
EightThirty .
Super Reviewer
I dont remember a whole lot but I remember thinking, "What the hell is the movie even about?" The commercials boasted an all-star cast but that is all that it delivered. One forgettable, dry, and pretentious movie.
Be Cool Quotes
There are no approved quotes yet for this movie.