Battling Butler
(1926)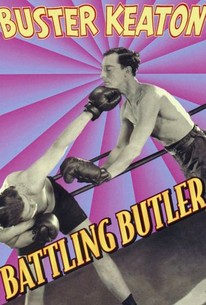 Movie Info
In this film, wimpy millionaire Alfred Butler goes on a vacation in the mountains with his faithful valet. While communing with nature, Alfred falls in love with a beautiful young girl. Without his master's knowledge, the valet tells the girl that Alfred is boxing champion Battling Butler.
Critic Reviews for Battling Butler
Audience Reviews for Battling Butler
½
Something that often goes unnoticed: Under Buster Keaton's everyman costumes, he had a rather elegant, aristocratic face. So it's easy to accept him in "Battling Butler" as pampered millionaire Alfred Butler, looking trim and sophisticated in his tailored suits. And given that Keaton had quite a few beans in the bank by this stage of his career, perhaps the posh world shown in the introduction wasn't far from his own reality. The premise of this 71-minute silent is not so plausible, but it does supply plenty of laughs. Mansion-bound Alfred decides a hunting getaway is just what he needs, so he and his valet (amusing Snitz Edwards, who's even more petite than Keaton) take off for the woods. Keaton has lots of fun with sight gags as his character continues to indulge his need for luxury, even while camping. Everything changes when Alfred meets a pretty, unnamed "mountain girl" (Sally O'Neill). He almost shoots her (oops), but they soon feel romantic sparks. However, her brawny father and brother sneer at wimpy Alfred and scorn the courtship. Noting that a current boxing champ also happens to be named Alfred Butler, the valet gets a spontaneous idea and bluffs that his boss is actually the boxer on retreat (yes, this story is pre-television and Internet). The girl's family is impressed, but now Keaton is stuck in a lie. This sets in motion an extended charade of him pretending to be a boxer in training (lots of physical humor with sparring partners and boxing-ring ropes), while the real champion (Francis McDonald) learns of the ruse and aims to teach him a harsh lesson. But we know our plucky hero will prove his mettle in the end, don't we? The wiry star shows some legitimate punching power, but a comic scene where the boxer's "punished" wife sports a black eye reminds us of the film's age.
Eric Broome
Super Reviewer
½
Battling Butler is another of Buster Keaton's lesser known films and while not quite up with his masterpieces, is still a great and hilarious film. Seeing Keaton as a member of high society certaintly is different but he still manages to get himself into plenty of trouble regardless of his wealth! Without giving away the entirety of the story, let's say that Keaton's character Alfred Butler has the same name as Alfred Battling Butler, a light-weight boxing champion. Needless to say his manhood is called into question and what's supposed to be a save from humiliation results in Keaton's character getting into the ring! While not quite up to the other films in his filmography, its a gut wrenching hilarious ride that is well worth taking!
Chris Browning
Super Reviewer
One of my favourite Keaton films. Hilarious and one of the best stories of Keaton's films.
Battling Butler Quotes
There are no approved quotes yet for this movie.