Battlestar Galactica: The Miniseries
(2003)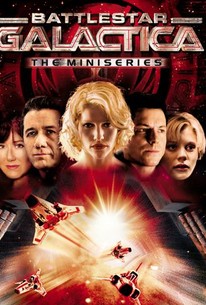 Battlestar Galactica: The Miniseries Photos
Movie Info
One of the most popular television series of the late '70s science fiction boom gets a new look for the new millennium in remake, created as a made-for-cable miniseries. Four decades after the Cylon Wars, the Cylon robots (some of whom have since assumed human form) have launched a vicious nuclear attack, leaving only a few Colonial forces to lead the survivors to safety. Led by starship commander Adama (Edward James Olmos) and politician and possible presidential successor Laura Roslin (Mary McDonnell), the crew of the Battlestar Galactica searches the galaxy for the mythic 13th Colony of Kobol (otherwise known as Earth), their destination and only hope for survival. Battlestar Galactica: The Miniseries also stars Jamie Bamber, James Callis, and Grace Park.
News & Interviews for Battlestar Galactica: The Miniseries
Critic Reviews for Battlestar Galactica: The Miniseries
Audience Reviews for Battlestar Galactica: The Miniseries
½
This breathtaking miniseries that started the exceptional TV series features a steady direction, great dialogue and elegant long takes, while also raises many moral issues with intelligence and keeps the focus always on the characters and on the human aspect of the battle.
Carlos Magalhães
Super Reviewer
This three hour miniseries is absolutely stunning in so many ways I don't even know where to begin. It puts us in the middle of a world with a complex history. It, unapologetically, launches the story straight away. I like the fact it assumes we know this fictitious world. It forces you to keep paying attention, as there is a lot going on. History, plot, characters, twists and turns are all crammed into 180 minutes, but it doesn't feel bloated or rushed. If anything, it has perfect pacing. To feel this connected and this involved with a large group of characters after just three hours is quite amazing. The large group of characters contains familiar but reliable archetypes, and more complex characters. My favorite would have to be James Callis. He portrays a selfish but conflicted man, somewhat responsible for the end of humanity. He is joined by a Jiminy Cricketesque subconscious, that takes the form of a very sexy Cyclon. Lots of terminology, politics, religious and technological debates abound. If you like your TV (or even movies) dense, well rounded, beautifully scripted, and utterly engaging, please check this out. Now if you'll excuse me, I have 4 seasons to be getting on with.
Luke Baldock
Super Reviewer
Way way way way better than I was expecting. See the series it's amazing.
Ken Stachnik
Super Reviewer
Battlestar Galactica: The Miniseries Quotes
There are no approved quotes yet for this movie.