Jigoku kôshien (Battlefield Baseball)
(2003)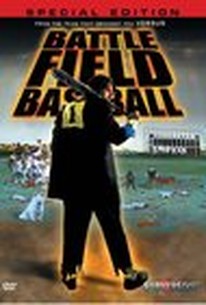 Movie Info
Yudai Yamaguchi, who worked with Ryuhei Kitamura on the screenplays for Versus and Alive, makes his directorial debut with the low-budget zombie sports musical comedy Battlefield Baseball. The prospects for the new season are looking bright for the Seido High baseball team. With their best hitter, Gorilla, leading the squad, the coach anticipates a successful year, despite the presence of the runty Four Eyes (Atsushi Ito). But then the coach finds out that his team has to play the dreaded murderous zombie team from Gedo High, a team that makes up its own deadly rules, and he considers forfeiting the entire season. But a new student, the intriguingly named Jubeh the Baseball (Tak Sakaguchi, who has appeared in several of Kitamura's films), shows up and demonstrates his amazing baseball prowess in a fight with the local gang of dropouts. Jubeh's arrival renews the team's hopes, but when Four Eyes asks him to play, Jubeh explains, in a heartrending musical number, the tragic reason why he's vowed never to play baseball again. Four Eyes sees through Jubeh's pain to his genuine love for the game, and convinces him to help the team. But on the day of the big game against Gedo High, Jubeh finds himself in jail, and Gorilla and the rest of the Seido team try to forge ahead, with horrific results. Jubeh eventually gets out of jail, and with the help of some unlikely allies, takes on the Gedo team in a bloody showdown. Battlefield Baseball, based on a manga by Gatarô Man, was shown at the 2004 New York Asian American Film Festival. ~ Josh Ralske, Rovi
Critic Reviews for Jigoku kôshien (Battlefield Baseball)
Audience Reviews for Jigoku kôshien (Battlefield Baseball)
Low production values and bad editing hurt this cult comedy action film, but it does manage a few laughs.
Anthony Valletta
Super Reviewer
Too much cheese that doesn't manage to be funny enough, try Cromartie High School instead of this one. I bet the manga is way better.
Tsubaki Sanjuro
Super Reviewer
Only for fans of Troma films and bad anime. It had a few inspired moments but its too dumb for its own good.
A.D. Villarreal
Super Reviewer
Jigoku kôshien (Battlefield Baseball) Quotes
There are no approved quotes yet for this movie.