*batteries not included
(1987)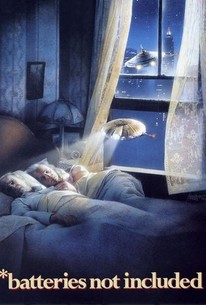 *batteries not included Photos
Movie Info
Hume Cronyn and Jessica Tandy are among the impoverished residents of a slum tenement threatened with demolition by evil land developers. Only a miracle can save Cronyn, Tandy, and their friends -- and that miracle manifests itself in the form of a "family" of extraterrestrial flying saucers, who need the electricity provided by the tenement to survive. The grateful humanized spaceships repay their earthbound hosts by doing battle with the villains' henchmen. When the building is engulfed in flames, all seems lost, but the aliens have a few more tricks up their metallic sleeves.
Critic Reviews for *batteries not included
Audience Reviews for *batteries not included
Batteries not Included is a childhood favorite and is a perfect family film. Well directed by Matthew Robbins, this is a great film and it has such a good story. This is the type of film that remains a classic long after you've seen it. The cast here are wonderful in their parts and this is such a wonderful film. The story is just great and charming. As far as family films are concerned, this is the perfect film to watch as a family. With plenty of memorable scenes, this film just is pure magic and loads of fun from start to finish. I very much loved the film, thought it was very entertaining and fun. The film succeeded at being one of those films that has stood the test of time. This is a brilliant film, one that people of all ages will surely enjoy. This is a fine mix of drama and comedy with Sci Fi, and it works very well. Steven Spielberg has produced this film, and he helps give it a bit more charm. A great film that is almost perfect, Batteries not Included is a must see. The special effects are great as well and the aliens are well done as well. This is simply put a charming, well directed family film that is a must see for anyone of all ages. This is a fun film from start to finish. This is one of the best films of its kind since E.T and it has everything you'd expect from a family film. Matthew Robbins directs something special here, and it's no wonder that Batteries not Included is such a fine little film. This is a must see for nostalgia fans and this one does bring some good memories.
A heartwarming story of aliens saving a lost group of souls. I grew up watching this movie and it will always be one of my favorites.
Alexis Nomm
Super Reviewer
For many years, I've been wanting to see "Batteries Not Included," but none of the local video stores carried it, so I had to wait until it came on television. I finally got my chance tonight to watch what my mom calls 'one of her favorites.' In "Batteries Not Included," a couple of miniature UFO's enter a housing complex that has troubled people living inside its quarters. These people are troubled because the building in which they are living, is on schedule to be torn down to shreds, and they don't want to move to a different place. As strange as it may sound, these two tiny UFO's just might be able to help these humans. That is, if they're friendly unidentified flying objects. I agree that "Batteries Not Included" is a good movie, but unlike my mom, I wouldn't call it one of my favorites. It has decent acting, it's entertaining, and the special effects are good enough. It's a mix between a drama and a family movie. One part even stood out as being hilarious, and you'll know it when you see it. If you like good movies, I recommend at least renting "Batteries Not Included." NOTE: That was my Amazon review from the year 2001.
Jason Owens
Super Reviewer
*batteries not included Quotes
There are no approved quotes yet for this movie.