Bat 21
(1988)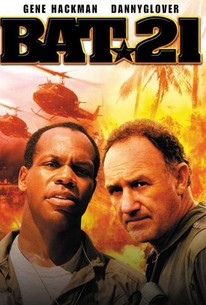 Movie Info
A military strategist's aircraft is shot down in Vietnam while on an aerial reconnaissance mission. Having never received combat training, he is ill-prepared for survival, but due to the efforts of a rescue pilot he is able to hold out until the next day, when he is finally rescued.
News & Interviews for Bat 21
Critic Reviews for Bat 21
Audience Reviews for Bat 21
½
I saw this when a friend let me watch some burnt dvd's he had. I noticed it said "Gene Hackman" and "Danny Glover", so I put "Bat 21" in my DVD player. I was in for a major suprise. An unheard of Movie Special! This film is so AMAZING. I have underestimated myself, and have learned to give some unheard of movies a try. This film is sheer Moviegoing-Bliss. Pure Action-War Entertainment.
Joseph Eastmond
Super Reviewer
½
An ok film about a man trapped behind enemy lines in the vietnam war with a good cast.
Bog standard militaristic flagwaving from Hollywood, as the two stars run around behind enemy lines while spouting golf terms through a walkie talkie. Hackman keeps it bearable; the only poignant moment is when he actually sees the results of his orders in human cost on the ground. But that's of course quickly glossed over to get back to the gung ho action. Brainless.
Bat 21 Quotes
There are no approved quotes yet for this movie.