Basic Instinct 2
(2006)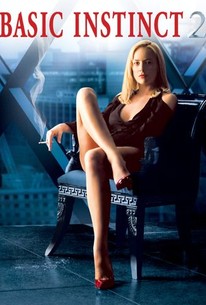 TOMATOMETER
AUDIENCE SCORE
Critic Consensus: Unable to match the suspense and titilation of its predecessor, Basic Instinct 2 boasts a plot so ludicrous and predictable it borders on "so-bad-it's-good."
Movie Info
Novelist Catherine Tramell is once again in trouble with the law, and Scotland Yard appoints psychiatrist Dr. Andrew Glass to evaluate her. Although, like Detective Nick Curran before him, Glass is entranced by Tramell and lured into a seductive game.
News & Interviews for Basic Instinct 2
Critic Reviews for Basic Instinct 2
Audience Reviews for Basic Instinct 2
½
This film slightly surprised me, I'd held out very little hope for the sequel, having heard nothing good or bad about it and so I'd assume it to be a complete flop. Now I'm not saying it's to the contrary, but I did feel it had it's moments. I had enjoyed the original when it was released, even if more recent watches of it made it seem a little corny and cliche. In the sequel we move on to England and whilst the plot is similar to the first, we do have some of Britain's favourite Drama Actors included, in fact had this not been Basic Instinct 2 and it was not starring Sharon Stone, it could have been an ok tv Drama. Stone, however was over the top and was surely the corniest thing about the movie. Sort of hit and miss, easy watching, but forgettable.
Lady D'arbanville
Super Reviewer
you would think with a poster like that, Sharon Stone would show her snatch again but instead you get old 45-year old boobs in a hot tub. not that i wanted to see her snootch anyway. i mean, i haven't seen the first one, and if i did i wouldn't care for it anyway cause chicks over 30 are just putrid, soggy, pieces of petrified pilgrim wood to me. you also get to see stone sit in a chair with it turned the opposite way all sexily and shit. and see the wide spectrum of emotions drawn on the canvas of her poor, saturated face. the one she likes to use alot is desperation disguised as seduction, but if you have seen Basic Instinct 2, and you saw it because you sought out to see it because you liked the first one then you don't care about her ball-fattening performance. what you care about is her Amityville clock, vampire-bat winged, baseball gloved snizzy. and you won't get that. P.S.... 911th review, motherfuckers! im doing it for the victims of that cold september day. im doing it for freedom. if you're reading this review, you're helping support the troops.
Coxxie Mild Sauce
Super Reviewer
I saw this sequel before seeing the original Basic Instinct and actually enjoyed it despite all the negativity the film received. After seeing the first one, I understand now why the film has received so much flack. This sequel is almost a copy of the first film, but with less trills, as we know how it will turn out. However Basic Instinct 2 is an entertaining film, not perfect, but awful either, I've worst films than this, and this film is far from the worst that I've seen. Sharon Stone reprises her role from the first film, and again she is the subject of a murder investigation. Basic Instinct 2 is basically the same film, but it slightly modified to make it "different". The film good for what it is, but it's not excellent, and is worth at least a rental. This is just an entertaining two hour film that presents a different angle on the material presented in the first film. The acting in the film is average at best, nothing special and if you've seen this film, then you've seen this film. The film manages to be to entertaining, but it navigates familiar waters and in the end, you know whats going to happen. As far as sequels are concerned, Basic Instinct 2 is not as bad as the mainstream critics have claimed it to be, I enjoyed it, but I also think it could've been better too.
Basic Instinct 2 Quotes
There are no approved quotes yet for this movie.