Au Hasard Balthazar
(1966)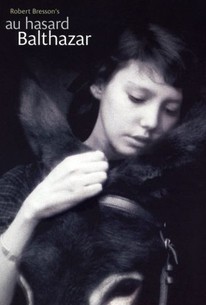 TOMATOMETER
AUDIENCE SCORE
Critic Consensus: Au Hasard Balthazar uses one animal's lifelong journey to trace a soberly compelling -- and ultimately heartbreaking -- outline of the human experience.
Movie Info
Robert Bresson's acclaimed Au Hasard, Balthazar presents an unfettered view of human cruelty, suffering and injustice, filtered through the eyes of a donkey over the course of his long life. The burro at the film's center begins life peacefully and happily, as the unnamed play-object of some innocent children in bucolic France, but his circumstances change dramatically when he becomes the property of a young woman named Marie - who christens him Balthazar. As she grows up and encounters tragedy and heartbreak, so does Balthazar; he passes from owner to owner, who treat him in a variety of ways, from compassionately to cruelly. The donkey, of course, lacks the capacity to comprehend the motivations of each individual but accepts whatever treatment (and role) is handed him, nobly and admirably. Bresson ultimately uses the story as a heart-rending allegorical commentary on human spiritual transcendence. ~ Nathan Southern, Rovi
News & Interviews for Au Hasard Balthazar
Critic Reviews for Au Hasard Balthazar
Audience Reviews for Au Hasard Balthazar
Godard once said that Au Hasard Bathazar, Bresson's fascinating allegorical study of spiritual transcendence, is "the world in an hour and a half." I think that's a fitting description. Perhaps only Bresson can take a tragic story about a donkey and within it find the story of Christ, but all be damned if he doesn't pull it off to miraculous effect. This film can be interrupted many different ways, but for me, Balthazar is Bresson's inspiring reassurance of the existence of God by the lack of even the slightest miracle or good fortune. What is not seen, the saving grace, is made more real and believable in its absence. The story, that of a donkey's life, is, on the surface, absurd; however, what Bresson can bring to it through the patient austerity of his camera work, the martyr like surrender of his characters (including the donkey Balthazar), is as transcendent and enlightening as a private epiphany. What is amazing is that he is able to project so much depth into an audience so unsuspecting. Like Ozu, he never judges his characters, he just presents them to his audience. I feel compelled to comment on the ending. A powerful final sequence, it achieves an eerie grace, consistent with its almost unique tone - allusively Biblical and allegorical, yet resistant to specific meanings and interpretations. The plot is a narrative of human cruelty and escalating despair, but always with enough mystery in the motivation to ward off easy condemnations; and perhaps even to indicate divine guidance. Throughout, Anne Wiazemsky seizes on the donkey as a symbol of transcendence (her mother even calls it a saint in the end); it's formally christened at the beginning and undergoes something approaching a formal funeral, all of which gives its life the contours of a spiritual journey of discovery. The narrative encompasses both revelations (the interlude in the fair; new tortures like the mean old man who starves and beats him) and retrenchment; both life's austerity, its roots in servitude, and its enormous potential dignity. Never was a donkey filmed so evocatively - but as always with Bresson, the simplicity is thrilling too - there's no false artistry here; no dubious anthropomorphism. To be honest, I'm genuinely impressed that he got so much out of what appears to be so little. If you can withstand Bresson's detached style and elliptical narrative techniques, then you'll be rewarded with a powerful and soul-stirring cinematic experience.
Jonathan Hutchings
Super Reviewer
like de sicas "the bicylce thieves", bressons character study is more about the human condition than about the plot itself. too much polish would have distracted us from the simplicity of the story, but realism provides it with a profound texture that i fear most common movie fans would miss entirely. who knew that a 90 minute movie about a donkey would have so much to say about humans?
To paraphrase Bresson, Au Hasard Balthazar presents a progression of life. From tender childhood to laborious adulthood to a "time of talent & genius" to mysticism and, finally, to the inevitable demise that awaits us all. The approach is artistic and abstract with few empathetic characters. I appreciate this film but, because of it's dark tone, I can't say that I enjoyed it.
Randy Tippy
Super Reviewer
Au Hasard Balthazar Quotes
There are no approved quotes yet for this movie.