The Ballad of Cable Hogue
(1970)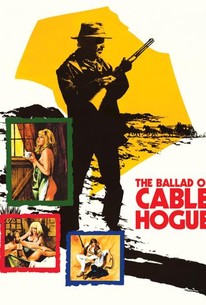 The Ballad of Cable Hogue Photos
Movie Info
In this film, Sam Peckinpah dropped the violence he became known for with The Wild Bunch but remained with the theme of the closing frontier in this gentle comedy-drama. Cable Hogue Jason Robards is a weary prospector robbed and left to die out in the Arizona desert by two ruffians, but he discovers water at the spot. He lives, digs a well, and sells water to passersby, including a demented preacher (David Warner). Throughout the episodic story, Hogue turns his location into a profitable concern and a beautiful prostitute (Stella Stevens) from the nearest town joins him, adding a relationship to his life. Eventually the two men who dry-gulched him return and he gets his revenge. When, in 1908, visitors stop in a horseless carriage, he is run over and killed in a rather quiet, anti-climactic scene. This film has a leisurely pace, but the script and performances keep it moving as a romantic tribute to pioneer spirit. It is one of the better westerns about the closing frontier that appeared in the late '60s and early '70s, along with Peckinpah's own The Wild Bunch, George Roy Hill's Butch Cassidy and the Sundance Kid, and Monte Walsh, the directorial debut of cinematographer William A. Fraker.
Critic Reviews for The Ballad of Cable Hogue
Audience Reviews for The Ballad of Cable Hogue
½
Peckinpah buries his favorite genre with the help of an outstanding trio: Jason Robards as an outlaw with strict moral codes, Stella Stevens as a town whore with too much heart, and David Warner as a preacher full of lust. This isn't by any means a languid, morose funeral; but a festive farewell to a time and place that seemed to stay isolate from the rest of the ever changing modern world.
Pierluigi Puccini
Super Reviewer
½
The heart of this movie, which make the rest of it come alive -- zigzagging dissolves and all -- is Robards' and Stevens' performances and some of Lucien Ballard's shots, mostly cloudscapes he catches behind the characters. I don't know whether Peckinpah had to direct this, and I don't mean because of the low level of violence. It's a comic elegy to the pioneer individualist where the system isn't trying to beat him down. He slides one way, while the system slides the other; both taking 'er easy. Of course the system slides the pavement under Hogue's feet, but there's no dialectic Peckinpah is experimenting with this time. Yeah, I know we're all charmed with what Hogue represents and we hate to see him go, but almost a whole movie about collectively basking in that feeling? Even the banker is nice in this one. ------------------ A reconsideration, with some SPOILERS: *** Maybe we're deliberately left with handful of unsatisfying suggestions about what he might represent in history. "He was a man," I think the Preacher says solemnly -- emptily??? The movie basks in our feeling for this guy, who is between worlds that won't fully have him -- since he is his own man, by choice. It's sad to watch that feeling contrast with the quickness of each character's mourning for him at the end. ??"He was a man" ... Maybe this movie ends up being about loneliness as our sacrifice in living out American ideals. Cable makes that sacrifice more honorably than most of us would even aspire to, without any regrets.
Adam Mahler
Super Reviewer
½
The Ballad of Cable Hogue was proof that Jason Robards is possibly the most underappreciated actor ever. Sam Peckinpah's uncharacteristically upbeat Western wasn't what I expected and despite the contrast with Peckinpah's usual fare, I really liked it. Robards steals the show, but the rest of the cast (especially David Warner) was great. The Ballad of Cable Hogue is by no means a perfect movie as the duet with Robards and Stella Stevens was a tad on the painful side and the goofy sped-up nonsense was cringe-worthy, but the last 20 minutes and a scowl-inducing but necessary and perfectly sensible ending more than justify it.
Michael Gildea
Super Reviewer
The Ballad of Cable Hogue Quotes
There are no approved quotes yet for this movie.