Ballad of a Soldier
(1959)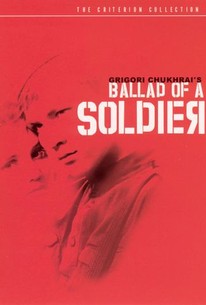 Ballad of a Soldier Photos
Movie Info
A young Russian soldier is awarded a four day pass after destroying two enemy tanks. He plans to visit his mother and fix her roof, but a series of events underscoring the hopeless destruction of war limits his visit to a few minutes. The young soldier is disillusioned at the rampant infidelity displayed by fun-loving wives while their husbands engage in deadly combat to protect home and country.
Critic Reviews for Ballad of a Soldier
Audience Reviews for Ballad of a Soldier
A lovely, heartbreaking, somewhat episodic film about the travels of a young Russian soldier who's given a short leave to go home and see his mother. During the erratic journey back to his village, he meets an innocent farm girl and awkwardly falls in love. Beautiful cinematography, affecting leads.
Eric Broome
Super Reviewer
The leave of a young Russian soldier is sidetracked by his own kindness and humanity. A story of human decency set against a backdrop of destruction and devastation. Poignant and sad but still inspirational.
Randy Tippy
Super Reviewer
½
A beautifully-made film from Russia. As a reward for a heroic deed in battle, a young soldier receives six days leave to go home to see his mother. The rest of the film follows him as he tries to make it home and back in the allotted time. For part of his journey, he sneaks aboard a boxcar, and then later a pretty young girl does the same. You can take it from there...up to a point. Like many Russian films, the faces are the main focus. The lighting of this film was particularly impressive, and every face seems to glow from within. There are some very interesting camera angles, especially in the early battle scenes, but also the shots of and from the train. Even the musical score was beautful and dreamy. The only flaw I found in the film was the heavy-handed sentimentality. You can show depth of feeling without being melodramatic about it. Otherwise, this is a touching and beautiful film.
Ballad of a Soldier Quotes
There are no approved quotes yet for this movie.