Balibo
(2009)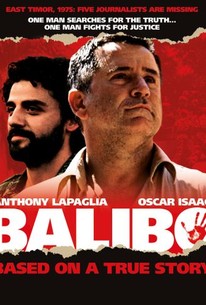 Movie Info
In the aftermath of the shooting of five Australian journalists in East Timor, a curious sixth named Roger East (Anthony LaPaglia) is convinced by charismatic acquaintance Jose Romas-Horta, a man who would prove to have a bright and influential future, to investigate the incident. Balibo is a political thriller and true-crime story based on 1975's Balibo Five executions and an ensuing 30-year cover-up.
Critic Reviews for Balibo
Audience Reviews for Balibo
This truly riveting and important political thriller exposes without any concessions a horrendous episode in History that has been kept in silence for a long time, and it is always fluid in the way it shows us what happened to Roger East in parallel with the tragic fate of the Balibo Five.
Carlos Magalhães
Super Reviewer
½
I'd no idea what the movie is about before watching it except that it's based on real events. And based was it!! Clarifying so at the very outset when it instead chooses to mention "This is a true story." wouldn't have helped much though. While taking inspirations from real events, the movie gets incredibly, & more importantly, unnecessarily melodramatic. It seems as if reality takes a back stage for a scripted drama, thereby rendering the main story far less interesting. I reckon that fictionalization is essential at times, but here it's overdone. Better than general Lifetime Movie, but not good enough. Of course, it's not a TV movie, but that shouldn't quite matter. While not good enough, it's tolerable enough. My experience might have been different had I not known that it's based on real events (ignorance may have adjusted my expectations), but then if it wasn't based on real events, I doubt I'd have gone for it. All talks. Give it a go or let it go. Whatever.
familiar stranger
Super Reviewer
This truly is inspired filmmaking! Australian writer/director Robert Connoly's political thriller Balibo sheds light on war crimes that have been covered up for more than 30 years. Boldly political and unashamedly provocative, it tells the true story of 1975 and the murder of five Australian journalists in East Timor in the lead-up to the invasion by Indonesia. In November 1975, four weeks after five journalists are reported missing in East Timor, veteran Australian foreign correspondent Roger East (La Paglia) is approached by 25 year old Jose Ramos-Horta (Isaac) and offered a job as head of East Timor's news agency. Refusing to accept the official reports that his colleagues were killed in crossfire, East sees the job as an opportunity to uncover the truth and travels with Ramos-Horta to East Timor. Intercut with their journey is the story of how the five Australian journalists, four weeks earlier, made their way to Balibo determined to film the impending Indonesian invasion. The Indonesian assault is particularly compelling and marks one of the most shattering finales in Australian film history. This film engages a new audience who knows nothing of this extraordinary piece of history. Regardless of historical knowledge, more powerful is the feeling of pride for the Balibo Five who rushed to East Timor's side when the world turned its back.
Cinema Films
Super Reviewer
Balibo Quotes
There are no approved quotes yet for this movie.