Bad Manners
(1998)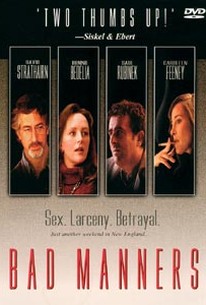 Movie Info
Two couples share an evening of bad karma in this domestic drama. Matt (Saul Rubinek) is a musicologist who has devised a computer program that can spontaneously compose music; however, one of the first pieces it comes up with features a prominent quote from "A Mighty Fortress Is Our God." His girlfriend Kim (Caroleen Feeney) is a computer expert with a nasty sense of humor; Matt thinks she may have fudged his program just to make him look silly. Nancy (Bonnie Bedelia) is a distinguished college professor who has been granted tenure at Harvard. Her husband Wes (David Strathairn) has a fragile ego, and it hasn't been soothed by his recent denial of tenure at the less prestigious institution where he teaches. Nancy and Wes have invited Matt and Kim over for dinner; Nancy and Matt were once lovers, which puts Wes on edge at the outset, and Kim seems to find him an amusing target for her sarcastic sense of humor. Wes finally begins to lose his grip when he discovers that a $50 bill is missing and is convinced that Kim has pocketed it. Kim denies it, but even after the bill turns up, Wes is convinced that she -- or someone -- has it in for him. Bad Manners screenwriter David Gilman adapted this material from his play +Ghost in the Machine.
Audience Reviews
There are no featured reviews for Bad Manners at this time.
Bad Manners Quotes
There are no approved quotes yet for this movie.