Bad Boys
(1982)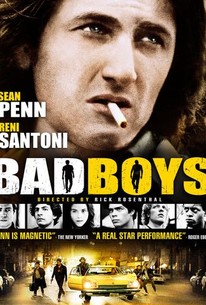 Movie Info
Sean Penn stars in Bad Boys (gee, isn't that a bit redundant?) He plays an incorrigible teen-aged gang member who is thrown into prison with several of his fellow unregenerates. Unlike Mr. Penn's real-life jail terms, this one is of significant enough duration to allow Penn to become Leader of the Block. His leadership is challenged when an old enemy, arrested after raping Penn's girl (Ally Sheedy), ends up in the same cell. Extremely violent, Bad Boys manages to remain compelling--and disturbing--despite its 123 minute length.
News & Interviews for Bad Boys
Critic Reviews for Bad Boys
Audience Reviews for Bad Boys
½
The best and probably the only good part about this teen prison film is Sean Penn's performance. Everything else needs some work. The production value was low even for these types of films. The direction could have been better. The writing was okay. There where no one liners that stood out for me. The film was to fast paced. The film just hits you right away with a shooting that wan't even directed right. I did enjoy the fight scene at the end. I was routing for Sean Penn. But ending was a bit predictable. I take that back, it was really predictable. If your a teen looking for some good fun then watch this.
Eduardo Tobias
Super Reviewer
½
Mick O'Brien: Hey. What are the odds on me now, Perretti?  Perretti: Three to two... against you. Nothing personal.  Bad Boys is a solid teenage, juvenile prison drama, that contains two really food performances from Sean Penn and Esai Morales. For Sean Penn, this was his third major role. He had already starred in TAPS in a small role and as the iconic Spicoli in Fast Times At Ridgemont High. His role here as Mick O'Brien; a street tough who lands himself in a Juvenile Prison is the first time we see just how powerful a dramatic actor he was going to become. We got glimpses of it in TAPS, but he didn't have a big role. Here, he's the star and he does shine bright. The drama revolves around O'Brien and Moreno(Morales). Both are punks who attend the same school. One night while Moreno has a drug deal going down, O'Brien tries to steal everything. His plans backfire and it results in him being in a car chase with the cops. The chase ends with O'Brien hitting Moreno's brother and killing him. Now this is just the setup because soon after, O'Brien and Moreno find themselves in the same prison. I completely love this movie and it is really overlooked. It's also not widely known or very accessible. Even with how much I love this movie; I'm not going to say it's flawless. The movie contains some pretty awful acting from some of it's supporting actors. It contains a huge editing error and the last fight scene. A camera man is easily visible in front of the crowd of cheering kids. It's music score is really a complete waste and I can't say it's aged too well.  As a movie that really gives us a really good plot and performance from Sean Penn; it's worth a look. If your a big fan of Penn, like me, you owe it to yourself to watch this. It really does show signs of what he would become. 
Melvin White
Super Reviewer
½
It's the teen drama from hell. You couldn't ask for more of a rough and mature content. Sean Penn gives his best early performance as the sociopath Mick O'Brien. Chalk full of John Hughes favorites, it's sort of interesting to see them play such different characters. I really think the story is revolutionary for it's time and opened the flood gate for better and more sophisticated coming-of-age stories.
Conner Rainwater
Super Reviewer
Bad Boys Quotes
There are no approved quotes yet for this movie.