Backstreet Boys: Show 'Em What You're Made Of
(2015)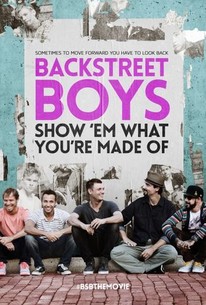 Backstreet Boys: Show 'Em What You're Made Of Photos
Movie Info
An emotionally open and honest film portrait, this documentary explores the highs and lows from boyhood to manhood that led the group to a London studio in 2012 to write a new album, make a film and plan their 20th anniversary re-launch. The reunion renewed friendships, but dynamic shifts reveal new and old tensions that need confronting and resolving. This is a surprising and rewarding journey filmed over two years that delves into the extremes of fame and fortune, betrayal and renewal.
News & Interviews for Backstreet Boys: Show 'Em What You're Made Of
Critic Reviews for Backstreet Boys: Show 'Em What You're Made Of
Audience Reviews for Backstreet Boys: Show 'Em What You're Made Of
½
There are a few too many moments that feel staged or where the overly-emotional Kevin or overly-dramatic Nick burst into tears, but there is something insanely interesting at play here as well. Never revealing enough for us to feel like this isn't just a PR-stunt to promote the groups 20th anniversary album and tour, Show 'Em What You're Made Of ultimately touches on the interested audiences nostalgia while at the same time gleaming an existential crisis within the groups aging members. How does one function as a man when they're a member of a boy band? The film doesn't so much try to answer the question that AJ McLean poses at the beginning of the documentary, but instead goes the route of how these guys, clearly knowing their best days are behind them, are forced to embrace that truth while accepting those days were such a whirlwind of obligation that they probably wouldn't choose to go back if they could. The acoustic-laden tracks that litter their new material is expected as these guys are now more mature and mellow, but the more fascinating aspects of the Backstreet Boys story lies in their beginnings with Lou Pearlman and how he gathered the five unknown talents in order to mimic the success of New Kids on the Block due to their massive earnings. The scene where the guys return to Pearlman's mansion (Pearlman is now in jail after being sentenced to 25 years in prison for perpetrating one of the largest and longest-running Ponzi schemes in American history) where they once rehearsed and partied is both unsettling and cautious in a way that hints there is more to the story that's not being told. Despite coming up short so as to stay safe in these territories that might otherwise prove controversial, Show 'Em What You're Made Of is nothing short of an eye-opener both for its subjects and those in the audience aspiring to such fame and affection.
Philip Price
Super Reviewer
Backstreet Boys: Show 'Em What You're Made Of Quotes
There are no approved quotes yet for this movie.