Backdraft
(1991)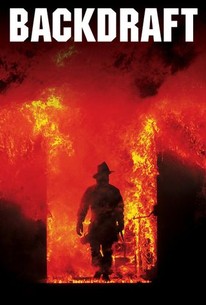 Movie Info
The sons of a Chicago fireman who gave his life in the performance of his duties, firefighting brothers Kurt Russell and William Baldwin carry their lifelong sibling rivalry into their work. Russell is convinced that Baldwin hasn't got what it takes to remain in the fire department. Baldwin is transferred to a "safe" assignment, assisting arson investigator Robert DeNiro, who is trying to make sense of a series of fires involving an oxygen-induced ball of fire called a backdraft. The investigation reveals a link between corrupt alderman J. T. Walsh and imprisoned pyromaniac Donald Sutherland. The trail of evidence leads Baldwin to suspect that his brother Russell, a much-decorated hero, may be the "inside" man setting up the arsons. ~ Hal Erickson, Rovi
News & Interviews for Backdraft
Critic Reviews for Backdraft
Audience Reviews for Backdraft
Good film. Good story. Almost good acting (I'm looking at you, Kurt Russell.)
Christian C
Super Reviewer
½
Lt. Steven McCaffrey: Look at him... That's my brother god damnit.  "Silently behind a door, it waits." Backdraft was a pretty big disappointment for me. The fire scenes were pretty cool, but they weren't enough to make up for everything that was wrong with the film. A great cast is wasted on terrible dialogue and by the numbers filmmaking from Ron Howard. Everything about the firefighters and the story is cliche and everything that occurs is predictable. Nothing in the film is at all original, and we pretty much end up watching the same movie we have seen countless times, except this time it is about firefighters.  I have trouble grasping how this movie doesn't work. I love the subject, I love the cast, and I even like Ron Howard. Sure he always goes for sentimentality, which is on full display here, but he also has a way of making entertaining and exciting movies. The problem with Backdraft is that it is only exciting when we are in a burning building. Outside of that, it is dull and too unoriginal. The brothers relationship has been done so many times, and Backdraft adds nothing new to the formula. Two brothers who don't get along, but work together, get over there differences through their job and a tragedy.  This story had potential. Two firefighter brothers are working together while an arsonist is running wild in Chicago. If the movie wasn't so dumb it could work, but every time Howard had the chance to take the story somewhere new, he instead chose to keep it in familiar territory. The result is a lackluster film, be it with some cool effects, that doesn't give any insight into firefighters, brothers, or human beings at all. When I want to get my firefighter kicks, I'll stick with rewatching episodes of Rescue Me.
Melvin White
Super Reviewer
½
This firefighter adventure about two brothers and their unit, fighting their personal struggles and what turns out to be a murder series offers some excellent pyro action in pretty impressive scenes. Excellent actors like DeNiro and Sutherland also manage to make the investigation parts fun, even if the solution to the case is a bit silly. It's built into such an impressively fiery showdown that you easily forget about that, though. Here, director Ron Howard is in his true element, stylizing the fire as a living, breathing villain. Those scenes make this a pretty impressive adventure with some minor flaws in the more every day sequences. Of course the American firefighters are depicted as the heroes of our time with the help of a bombastic Hans Zimmer soundtrack, slow motion and all that jazz.
Backdraft Quotes
There are no approved quotes yet for this movie.