Babylon A.D.
(2008)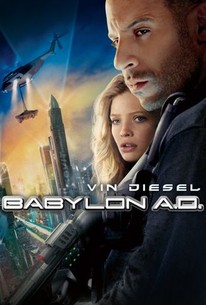 Movie Info
It is the not-too-distant future. Thousands of satellites scan, observe and monitor our every move. Much of the planet is a war zone; the rest, a collection of wretched way stations, teeming megalopolises, and vast wastelands punctuated by areas left radioactive from nuclear meltdowns. It is a world made for hardened warriors, one of whom, a mercenary known only as Toorop, lives by a simple survivor's code: kill or be killed. His latest assignment has him smuggling a young woman named Aurora from a convent in Kazakhstan to New York City. Toorop, his new young charge Aurora and Aurora's guardian Sister Rebeka embark on a 6,000-mile journey that takes them from Eastern Europe, through a refugee camp in "New Russia," across the Bering Straight in a pilfered submarine, then through the frozen tundra of Alaska and Canada, and finally to New York. Facing obstacles at every turn, Toorop, the killer for hire, is tested like never before, in ways he could never have imagined--as he comes to understand that he is the custodian of the only hope for the future of mankind. For the first time in his life, Toorop has to make a choice: to make a difference or walk away and save himself. Too bad it came on the day he died.
News & Interviews for Babylon A.D.
Critic Reviews for Babylon A.D.
Audience Reviews for Babylon A.D.
Echoes of 'Johnny Mnemonic' went through my brain as I watched this, not that its as bad as that but its abit to close for comfort. I still dont really know what happened haha the plot is very very well hidden and the film is really mixed up. The film doesnt know what it wants to be, there's the action of a sci-fi blockbuster in there and the usual standard martial arts affair but you can see the serious epic style wanting to come through too, shame they got Diesel in it. The rest of the cast is weak really, Thierry is actually really annoying as the virgin child, I wanted her to get killed, and the rest dont really do anything. Some nice touches like a 'Blade Runner' style NY city and quite decent if unsure why needed snow chase but thats about it, the cgi on offer was pretty poor too.
Phil Hubbs
Super Reviewer
A real mess of a film that doesn't make a lot of sense. So much is left unexplained, so many plot holes....for most of the film you have no idea what it is about and what is going on, after that you only have a small idea of what it's about then it ends, badly with too many questions unanswered. Apparently the studio cut out 70mins of footage! No wonder the story isn't really explained.
Vin Diesel not only dishes out maximum hulkage, he does so in the name of saving the world. He alone carries the burden of protecting the fragile and going up against assassins, bullets, rockets, planes, etc. Nothing can stop the the man with shaved gorilla strength. At face value, sure, it's no masterpiece. However, this movie is really fun and I think it's well worth your time. I loved the small touches, like Vin Diesel ripping apart a bunny rabbit and sauteing it with onions. I also appreciated the cage match fight in the middle of the movie designed to show that Vin Diesel can destroy a man twice his size.
Conner Rainwater
Super Reviewer
Babylon A.D. Quotes
There are no approved quotes yet for this movie.