Baby
(2008)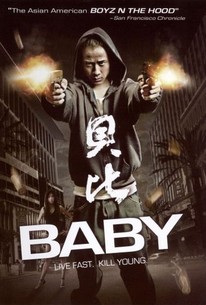 AUDIENCE SCORE
Critic Consensus: No consensus yet.
Movie Info
An East Los Angeles adolescent cements his entry into a life of crime by falling in with the gangsters next door and committing an act of violence that may well define his entire life in director/co-writer (along with Felix Chan) Juwan Chung's unforgiving look at the violent world of inner city Asian American gangs. Eleven year old Baby (David Huynh) has lost his mother, and now he loves alone with his dysfunctional father - a struggling alcoholic. Invited to run with the bad boys next door, Baby falls into a new kind of family when an outburst of violence changes his life forever. One evening, a skirmish breaks out amongst the gangsters, and their "Big Brother" is shot dead by a rival gang member. When Baby pulls the trigger on the gunman, the shooting earns him an extended stay in juvenile hall. Released back onto the streets seven years later, Baby discovers that though the faces have changed, the struggle remains the same. But despite the best efforts of his father, his best friend, and his childhood sweetheart in steering Baby off the violent path of self-destruction, in the end, it is only he can prevent himself from becoming just another statistic.
Audience Reviews for Baby
A GREAT gangster flick & something DEFINITELY worth buying or renting.I did NOT expect this movie to be as good as it was.A must see
Brody Manson
Super Reviewer
What Beavis and Butthead once said definitely applies to the viewing of this movie...and I quote: "This sucks more than anything ever sucked before..." Please DO NOT touch the box that this move came in...you will be eternally cursed for allll eternity! I gave it one star for the packaging...it looked so interesting!!! ARRGH!
Fascade Fiveoneeight
Super Reviewer
Baby Quotes
There are no approved quotes yet for this movie.