Avenue Montaigne
(2006)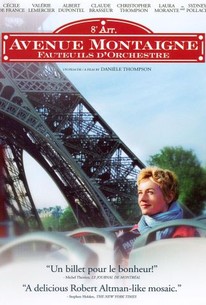 TOMATOMETER
AUDIENCE SCORE
Critic Consensus: A cute and bubbly French comedy that carries no deeper lessons or agendas than to have a little fun for 90 minutes.
Movie Info
A fresh-faced orphan from the provinces labors away at the last old-fashioned café on Avenue Montaigne as the Paris theater elite prepare for the biggest night of the year in Jet Lag director Danièle Thompson's whirlwind comedy of intersecting lives. Jessica (Cécile De France) may have been orphaned at the tender age of four, but her doting grandmother (Suzanne Flon) did her best to bring the motherless girl up right. A one-time ladies' room attendant at The Ritz, Jessica's grandmother was a woman well known for her extraordinary taste. Upon arriving in Paris to work as a waitress at a modest café nestled between a renowned concert hall, a venerable theater, and a high-profile auction house, Jessica soon finds herself interacting with a curious cross section of the thriving entertainment industry. As rehearsals for the upcoming shows get under way and Jessica is assigned the task of delivering food to the hardworking actors and low-earning stagehands, she soon discovers that even the most famous of people are often forced to make difficult decisions in life. Jean-François Lefort (Albert Dupontel) is a classical pianist whose devoted wife has him booked at venues across Europe for the next six years. As the free-spirited musician struggles to eschew the formality of his upcoming concert appearance, self-made businessman Jacques Grumberg (Claude Brasseur) takes time out from his May-December romance and his stressful medical treatment in order to auction off a collection that he has been building his entire life and reach out to his estranged intellectual son, Frédéric (Christopher Thompson). Meanwhile, back on the theater front, popular television actress Catherine Versen (Valérie Lemercier) prepares to star in a farcical play, a famous American film director (Sydney Pollack) begins auditioning actors for an upcoming film about Jean-Paul Sartre and Simone de Beauvoir, and a cheerful concierge on the verge of retirement (Dani) enjoys her final stint rubbing elbows with the biggest and brightest stars in Paris.
Critic Reviews for Avenue Montaigne
Audience Reviews for Avenue Montaigne
Sweet tale of a young woman who moves to Paris, takes a job in a restaurant, and becomes involved in the lives of several local celebrities. Each of the characters are facing decisions regarding the future and the tale revolves around how each of them deals with his or her personal crisis. None of the world's problems are solved, but as an afternoon's light entertainment, this film is quite satisfying. A few questions linger as to motivation in a couple of cases, but not enough to detract from the sweetness of the story. A solid cast and a light hand at the helm by director Danielle Thompson. And Paris, ah, always beautiful.
Mark Abell
Super Reviewer
I was pretty bored through this one. Seemed like a bunch of stuff was happening and I didn't really care all that much.
Curtis Lilly
Super Reviewer
½
[font=Century Gothic]In "Avenue Montaigne," inspired by her grandmother who raised her, Jessica(Cecile De France) ventures forth from her native Macon to Paris. At first, she is unable to get a job but persuades the manager of Bar du Theatres, Marcel(Francois Rollin), that she would make a good waitress. It also helps that he is short two workers and that there is a triple event happening in the neighborhood coming up on the 17th involving a concert, an auction and an opening night for a play. The concert is to be given by Jean-Francois Lefort(Albert Dupontel), a virtuoso pianist. A wealthy collector, Jacques Grumberg(Claude Brasseur), is auctioning off his entire collection. And a soap opera star, Catherine Versen(Valerie Lemercier), is acting in a play to prove she can be a serious actress.[/font] [font=Century Gothic]"Avenue Montaigne" is a tiresome and uninspired movie set in the art world about a group of people who are making transititions in their lives. Odd as it may sound, Sydney Pollack gives an unconvincing performance as a film director. The movie only looks at art through the prism of fame and money, not talent, promulgating a class system where the unlucky majority is meant to serve the lucky few. Despite that, the movie does have a sound premise which could have worked if it had not been stated out loud in the opening minutes and if more emphasis had been on the rehearsals and less on the soap opera, especially if Jessica had just been relegated to the background, not the foreground.(Even then, she is only confined to one small part of a very large city which is portrayed only in picture postcard cliches.) [/font]
Avenue Montaigne Quotes
There are no approved quotes yet for this movie.