Avengers: Age of Ultron
(2015)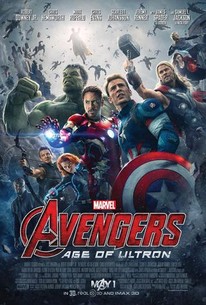 TOMATOMETER
AUDIENCE SCORE
Critic Consensus: Exuberant and eye-popping, Avengers: Age of Ultron serves as an overstuffed but mostly satisfying sequel, reuniting its predecessor's unwieldy cast with a few new additions and a worthy foe.
Avengers: Age of Ultron Videos
Avengers: Age of Ultron Photos
Movie Info
When Tony Stark jumpstarts a dormant peacekeeping program, things go awry and Earth's Mightiest Heroes, including Iron Man, Captain America, Thor, The Incredible Hulk, Black Widow and Hawkeye, are put to the ultimate test as they battle to save the planet from destruction at the hands of the villainous Ultron.
News & Interviews for Avengers: Age of Ultron
Critic Reviews for Avengers: Age of Ultron
Audience Reviews for Avengers: Age of Ultron
I think this is the one I watched. I honestly can't tell one from the other. The only two who slightly interested me were Scarlett Johansson and Elizabeth Olsen, and their screen time wasn't major. Mostly I was bored, couldn't follow the plot (did it have one?) and found it tedious. Lots of fights and explosions. Honestly could have been watching a transformers movie.
Nicki Marie
Super Reviewer
½
The big monster finally arrives, characters falling all over themselves for space, for lines, for presence, and it all feels rushed, as if your parents finally took you to Disneyland but only gave you an hour to play. It's Disneyland, f'cryinoutloud! Iron Man versus the Hulk thusly steals the proceedings. And there's the Hulk versus the Widow!
Kevin M. Williams
Super Reviewer
½
First of all, let me start off with a bold statement: I did not like the first Avengers movie! I thought it was over-bloated and tediously long, however it did have its merits for setting up a great phase 2 of movies. That being said I went into Age of Ultron with both optimism and trepidation, would I enjoy this more than the first one? And quite simply, yes I did. While most will disagree and say the first was better, this one had higher emotional stakes and was far darker making for an interesting film. Was it perfect? Absolutely not, but the movie knows what it is. First of all props to Jeremy Renner for making the quite dull Hawkeye far more interesting in this installment, delivering some of the best lines of the movie. The addition of Elizabeth Olsen's Scarlet Witch and Aaaron Johnson's Quicksilver were also welcome additions (however, Johnson's quicksilver has nothing on Evan's quicksilver in Days of Future Past). As for the core ensemble there really isn't much to fault, everyone is on their best game, however some characters are heavily underutilised and some storylines a little pointless (sorry Thor!). I'm trying to minimise on spoilers so I shan't post much more, other than the fact that there's only a mid-credit scene. Edit: James Spader does some great voice work as Ultron as well. Making him feel cold, yet understandable in his motives. 3.5/5
Jarrad Climpson
Super Reviewer
Avengers: Age of Ultron Quotes
There are no approved quotes yet for this movie.