Attraction (Prityazhenie)
(2017)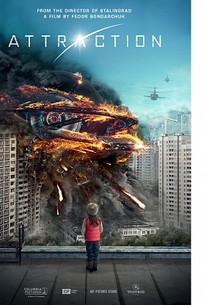 Attraction (Prityazhenie) Photos
Movie Info
An unidentified falling object from space changes our view of humanity and life beyond Earth. As local residents of Moscow residential district gather to see the fallen object, it forces mankind to question existing civilization and the potentioal for learning more..
Critic Reviews for Attraction (Prityazhenie)
Audience Reviews for Attraction (Prityazhenie)
I don't know where to start from. First overview! The movie is not really good. Because of many big factors. Acting is not one of them. The factors are : Editing. It was little needed on some parts of the film to be showed more frames of the picure which surely can add more atmosphere and thrill. The whole conception of the movie is on of the worst examples for us for the people. The whole movie shows bunch of rebelions which show only how impulsive and crazy for a wrong understood situation they are. That's not good example for us, for those who would follow the idea of following those film persons. Other is the situation about the persons (the military and the government) which make the situation more depressive for the humanity. That is because they just show how cold-blooded they are and how much the political factor can be a sign for a wrong running of the important situations. They can't show the people a true assurance and motivation for the happening. Actually the whole movie might have been produced only because there are put in a few, but shown very smart for our subconscious, political effects. Like the attack from the military that make the object fall. That shows strength. Also the organistion of the military to watch the situation and make the following of the rules right. But there is a good side, a really good side. Like the storyline. Mostly of the UFO and the "aliens" . And the plot a lot gets it really good. The start - too quick. The middle - it is really disappointing but it surely could've been better. The ending - I don't know .... little confusing?.... little surrealistic and THE END should have been more clear. Last thing - I really like the poster(s). And the UFO. !
Valeri Ivanov
Super Reviewer
Attraction (Prityazhenie) Quotes
There are no approved quotes yet for this movie.