Atlas Shrugged: Part I
(2011)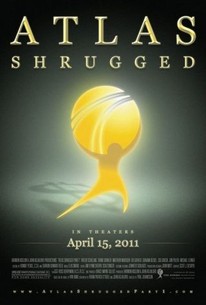 TOMATOMETER
AUDIENCE SCORE
Critic Consensus: Passionate ideologues may find it compelling, but most filmgoers will find this low-budget adaptation of the Ayn Rand bestseller decidedly lacking.
Atlas Shrugged: Part I Photos
Movie Info
Dagny Taggart (Taylor Schilling) runs Taggart Transcontinental, the largest remaining railroad company in America, with intelligence, courage and integrity, despite the systematic disappearance of her best and most competent workers. She is drawn to industrialist Henry Rearden (Grant Bowler), one of the few men whose genius and commitment to his own ideas match her own. Rearden's super-strength metal alloy, Rearden Metal, holds the promise that innovation can overcome the slide into anarchy. Using the untested Rearden Metal, they rebuild the critical Taggart rail line in Colorado and pave the way for oil titan Ellis Wyatt (Graham Beckel) to feed the flame of a new American Renaissance. Hope rises again, when Dagny and Rearden discover the design of a revolutionary motor based on static electricity - in an abandoned engine factory - more proof to the sinister theory that the "men of the mind" (thinkers, industrialists, scientists, artists, and other innovators) are "on strike" and vanishing from society. -- (C) Official Site
News & Interviews for Atlas Shrugged: Part I
Critic Reviews for Atlas Shrugged: Part I
Audience Reviews for Atlas Shrugged: Part I
½
Interesting. Slightly confusing. Apparently, a continuing saga...
Cynthia S.
Super Reviewer
½
The origin of how I learned of this film really had to deal with me learning that, for reasons I have yet to completely learn all about, the late vocalist Ronnie James Dio ended up having something of an involvement with this film. Once I learned that, I ended up doing research on this film until I learned that it was to be based on the first third of a brick of a book written by Ayn Rand. Reading the original novel, I was taken aback by how modern the tale reads in this day and age. Even more so, how prophetic the story is. With the film, it honestly tries to do a good job. Keyword being tries. The main fault with this film is how cheap it looks and feels, which is a disappointment. This film was made on less than a shoe string budget and, unlike films that make it hard to tell that it was made for dirt, this film shows it. Yes, the film looks beautiful, but aside from that, this film really offers nothing at all other than showing something of a mafia film, but replace organized crime with Train companies. Back to the part about this film feeling like a mobster film, to me it was quite clear how much of an influence Francis Ford Coppola and Martin Scorsese had on Paul Johansson's direction. To me, it seemed like he watched their films, saw how they were great, and tried to take their talent without really adding any of his own. This aspect was a disappointment. The main good thing he does is make some of the talking scenes (and there is a lot) fast paced and pleasant to look at. Other then that, he does not really do anything that works good at all. Except for directing Taylor Schilling as the main protagonist Dagny Taggart. Taylor Schilling is the best thing in this film, bar none. I will say that she does give a good performance, but that is not really saying anything at all. The other actors do a decent to okay jobs, but nothing really that stands out to me. The reason why I feel like having to say Schilling's name is due to her giving Dagny the most human of feels plus making her a strong, powerful female character. Her only fault with this film is the lack of emotions she has. For most of the film, she has this poker face like look and, while the character is established at the start of the film that she has no feelings, we all know that she is human and all humans have feelings. So, I would of liked to see more a human side to her. But for what she did, she did good, but not Oscar worthy. With adapting the script, I am going to play Devil's Advocate and give this film the benefit of the doubt due to how difficult it is to adapted a 1200 page novel into three films, then take the four hundred pages that make up this film and break it into a one and a half hour film. Personally, I wish that there could have been a way to expand the script and the film by about thirty to forty five minutes and have more material put in. The novel, when read, is like reading beautiful poetry. When transitioned into film, it looses it's beauty. But, then again, I understand due to the difficulty of adapting a novel of this scope into a film. Looking at other critical reviews of this film, I will say that this film is the most misunderstood and unfairly treated films of 2011. Yes, this film is not great nor is it even good entertainment. But, I will admit that there is something of a charm with this film that I like. But, I doubt I will set and watch this film again in the recent future nor watch this film over and over again. However, this is a film that I do ask people to give a try if they don't have the patience to read the original novel.
Zach Brehany
Super Reviewer
½
Billing itself as part one of an intended trilogy, Atlas Shrugged is an adaptation of Ayn Rand's famous 1200-page book on the merits of self-interest. Rand has become resurgent in the last few years, a favorite author of the Tea Party, as her anti-government, anti-regulation, anti-union, and anti-poor perspective has found a new legion of fuming followers. I can't imagine anyone else buying a ticket to the big screen version of Atlas Shrugged, a resoundingly tiresome and didactic enterprise. If this is what Part One brings, I can already predict the extensive yawning exercises I'll have to do to get in shape for Parts Two and Three. In the not too distant future, America's airline industry has ground to a halt due to rising gas prices ($35 a gallon we're told). The country has gone back to rail and leading that charge is Taggart Railway, lead by Dagny Taggart (Taylor Schilling). She's trying to save her company from her lazy brother, James (Matthew Marsden), who wants to rely on bribery and his Washington friends to get by. Dagny wants to join forces with steel tycoon Henry Reardon (Grant Bowler), who has staked his company's future on special new extra shiny steel. Other companies want to block Dagny and Reardon's efforts, relying on Washington to write strict laws penalizing the rich and successful and spreading the wealth around to those less unfortunate. At the same time, powerful businessmen seem to be vanishing and the only connection seems to be the identity of John Galt, a mysterious capitalist with an offer no rugged man of industry will refuse. Maybe Atlas shrugged because he got tired of how unbelievably boring this movie is. Oh my goodness, I was rolling my eyes and checking my watch every five minutes. The vast majority of this film involves ideologues disguised as characters talking about esoteric business practices. A full 80 percent of the dialogue has to be about railways and steel and this manufacturing and ore mines and... I'm sorry I fell asleep in the middle of writing that sentence. Seriously, this movie could be a cure for insomnia. It's so crushingly boring that it makes you wonder how anyone could ever pick up Rand's novel and think, "This deserves to be a film." There are segments where characters will talk this corporate gobblety-gook in unbroken reams, the actors behaving like androids. Now technical talk is not necessarily a one-way ticket to snoozeville, as political and corporate dramas can be quite invigorating in the right hands (see: Margin Call). It helps when you have a story, but with Atlas Shrugged all we have are mouthpieces for a political ideology. Regardless of political opinion, the movie fails because it never makes the story feel like it matters. The dialogue is perfunctory, labored, and inert, bogged down with lazy philosophical jabs. It's all tedious expository dialogue with no room for character. Who wouldn't want to watch a movie completely around the conflict of whether a train will get its steel tracks? That's it. You wouldn't know any of this mattered without the helpful inclusion of an overly enthusiastic dramatic score. Who cares about any of this junk? If you're looking for the most high-profile movie of 2011 to talk about the infrastructure dynamics of railways, your long wait ends here. Dagny and Reardon are supposed to be our heroes, the champions of the not-so-little guy, and thus we're intended to root for their romantic coupling. Never mind that Reardon is married because, in that age-old point of rom/com rationalization, his wife is a bitch. The two have one of the most robotic lovemaking scenes I've seen in recent memory, and this flash of sexuality and a few dirty words are the sole reason this film earned a PG-13 rating. These characters remain one-note and vacant, including icy heroine Dagny casually admitting, "I don't know how to feel." And then there's Reardon, who admits, "My only goal is to make money." What better antagonists than unfeeling heads of huge corporations who just want to be left alone so they can make their untold millions? What a great entry point for the empathy of the audience. None of these characters grow, change, learn, or even seem to reflect recognizable emotions beyond venom-filled anger. The villainous government stooges act shady, plotting the downfall of those laudable titans of industry, but it all just becomes indistinguishable chatter, villains clucking to themselves. Set in the near future of 2016, this adaptation feels strangely dated, most notably in its ascent of railroads. There's some ham-handed throwaway line about the cost of gas being so high so America just reverted back to the good old locomotive. I find this deeply implausible. It would have made more sense to actually make this a 1950s period piece, the original setting of Rand's novel. We're constantly told about the instability in the world via newscasters and announcers, but we don't ever see the effects of this world in crisis. Mostly that's because we're hobnobbing with the rich in their boardrooms and cocktail parties, but there's a scene where Dagny exits her limo and walks in a huff down the streets, which are empty of those dirty hordes of bottom-dwellers we've been hearing about. Apparently a world in crisis has done little to upset the disadvantaged, or the cities have just been very adamant about cleaning up the riffraff. The world depicted does not seem realistic. Would the country so easily go back to train travel where Dagny's super train can cross 200 miles in a single hour? What about international freight and travel? I guess that still has to run on all that precious petrol. I'd assume that by 2016 the world will still be an interdependent, globalized economy, so I would think that the United States would face more dramatic tension than the oversight over a railroad company. I've noticed that when it comes to a mostly conservative, mostly Christian fan base, the quality of movies is almost irrelevant. Movies like Left Behind, The Omega Code, Fireproof, or the recent Courageous are not expected to be good movies by traditional standards. They are sermons packaged in the guise of popular entertainment, which means that the artistic particulars come second to the message, and often do. Atlas Shrugged seems to fall into this same category. The production is very low budget, hence all those conversations in offices, and the CGI that is utilized looks pretty chintzy. The acting is profoundly bad, with Schilling (TV's Mercy) giving a flat, monotone performance throughout, closer resembling a well-dressed mannequin than a human being. She is a horrible actress, resembling a bug-eyed Botox addict who has forgotten the correct muscles to express emotion. And naturally subtlety goes out the window in favor of reconfirming the belief system of the people buying the tickets. I have no issue with movies that adhere to an ideology, whatever that may be, as long as the message doesn't get in the way of telling a good story. Atlas Shrugged is not a good story, not even close, and the message can be all too bludgeoning at times, like when Dagny incredulously remarks, "What's with all these foolish altruistic notions?" The movie seems to be bristling with anger and many a character spits venom at the very idea of government involvement, unions demanding safe working conditions, and regulation in any form, red meat for the Tea Party faithful. Without that red meat, or the film's strident message, there would be no reason to watch this mess. And now I'll shed my objective reviewer cap briefly to get on my own little soapbox and denounce the dangers of Randian politics. To be fair, I've never read an Ayn Rand book and honestly have no inclination of ever reading one of this woman's polemics. I just feel I have better uses of my time than reading a justification for sociopathic greed. Rand's extreme philosophy has been described as reverse Marxism, wherein the social elite is being sucked dry by the lechers of the world, those who do not contribute to the value of society. And for Rand the only value is money. The world, Rand posits, would be a better place if man would only think of himself. I fundamentally disagree with this notion. Remember that part in the bible where Jesus gives money to the rich and tells the poor to suck it up? Rand's self-involved philosophy seems like a round of consumerist Calvanism, rehashing a skewed religious perspective that was popular with the upper classes because it provided celestial reasoning why the rich were so rich and the poor were so poor. You see God wanted you to be rich, that is why you were born into a wealthy family, and he wanted all those miserable poor people to suffer. To help out the poor would therefore be blaspheming God's infinitely unknowable plan. The basic plotline of Atlas Shrugged, though only teased in Part One, is that the rich will get tired of being burdened by societal constraints and up and leave us all. Here's a good question: if all the billionaires in the world were to vanish, do you think everything would grind to a halt? Would we all be so out of luck without the super wealthy telling us what to buy? It's like the reverse of 2006's social satire A Day Without a Mexican, proposing that the American economic engine would be severely stalled if all the undocumented workers were to vanish. Under Rand's narrow line of thinking, the rich are that way because they are the best and brightest, the innovators. Nowhere in that equation does Rand leave room for the rich being rich due to lies, cheating, nepotism, and rigging the system for the continued benefit of a select few. I'm not meaning to begin a screed here, but I think the 2008 economic meltdown proved what happens when business is left to regulate itself. The economic collapse also proved that just because you've got some letters in your title (CEO, CFO, etc.) does not mean you're the smartest egg. Cronyism and a scoiopathic desire to look out for one's self-interest above all else is what brought the world on the brink of economic collapse. For me, recent history is a rejection of Rand's theories, not corroboration. Okay, soapbox put away. Atlas Shrugged the film seems almost like an unintended ironic statement on Ayn Rand's belief of the superiority of the individual. That's because movies are a profoundly collaborative medium, where many hands toil away to create a work of art. It is not the result of one man or woman but the results of hundreds of men and women working together, each knowing their role, playing their part, and working toward something greater than individual self-interest. Huh, how about that? It pretty much doesn't matter that Atlas Shrugged is a powerfully boring, braying, incoherent, tedious chore that is merely a message disguised as a movie. The intended audiences will more than likely hail the final product, ignoring "details" like the talky exposition-heavy dialogue, horrible acting, laughable special effects, and plodding pacing, and overall poor production. The Rand faithful are not going to this movie to be entertained, they are going to see their beliefs reflected upon the big screen. The overall quality of Atlas Shrugged is an afterthought to them. I just wish it wasn't an afterthought to the people making the movie. Nate's Grade: D
Nate Zoebl
Super Reviewer
Atlas Shrugged: Part I Quotes
There are no approved quotes yet for this movie.