At Close Range
(1986)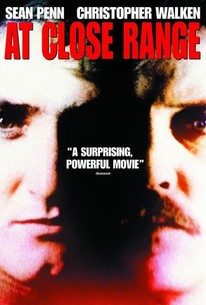 Movie Info
True story of an aimless Pennsylvania teen who is drawn in to his father's life of crime. Powerful performances by all!
News & Interviews for At Close Range
Critic Reviews for At Close Range
Audience Reviews for At Close Range
½
Fact is stranger than fiction. And it was so in this case. I found the real events on which the movie was based to be creepier than the movie itself. I was startled to learn that some of the sequences weren't artistic creations, but it happened for real. For example: I found the scene where Brad Jr. gets shot with Terry, but survives it, to be unbelievable, but was surprised I was furious over that clickhe when Sean Penn came out of the car after being hit badly. Thoughj it may not have happened per se as in the movie, but it did happen seems surprising. The screenplay could have been better than what it is with the given storyline.
familiar stranger
Super Reviewer
Yes, this movie is based on a true story, but true stories aren't always that good as movies. I liked some of this movie, it's got some good actors, too, but most of it was boring and I didn't care for the end.
Christopher Walken and Sean Penn star in this much overlooked film from 1986 regarding a family of small-time criminals. Walken plays Brad Whitewood Sr., the malevolent, soft spoken father who really cares about his family of criminals, yet his own flesh and blood's importance to him is quite dubious. Sean Penn and his brother Chris portray the Whitewood sons Brad Jr. and Tommy, and a slew of other known actors such as the brilliant Crispin Glover play friends and partners in crime. If you've missed this one and are a fan of any of the aforementioned actors, I highly recommend this.
At Close Range Quotes
There are no approved quotes yet for this movie.