The Astronaut's Wife
(1999)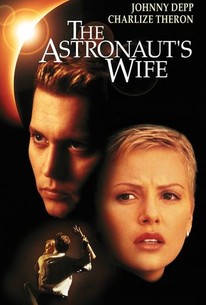 TOMATOMETER
AUDIENCE SCORE
Critic Consensus: Despite the best efforts of its talented leads, The Astronaut's Wife moves at a snail's pace and fails to generate enough intrigue to keep viewers engaged.
The Astronaut's Wife Photos
Movie Info
Science fiction blends with domestic horror in this thriller. Spencer Armacost (Johnny Depp) is an astronaut on a routine mission in space when something goes horribly wrong and it looks as if he's doomed. However, Spencer is rescued at the last moment and returns to earth a hero. He soon announces that he's retiring from space exploration to spend more time with his wife Jillian (Charlize Theron). Jillian has suffered from depression in the past and would like to start a family, so she's initially thrilled with Spencer's decision. Jillian soon finds herself pregnant, but she starts to notice something odd about her husband, as if the man who returned isn't quite the same person who went away. As her pregnancy advances, Jillian's anxieties increase, but has something really happened to Spencer, or have Jillian's old demons merely resurfaced? The Astronaut's Wife marked the directorial debut of Rand Ravich, who previously penned screenplays for such films as The Maker and Candyman: Farewell to the Flesh.
News & Interviews for The Astronaut's Wife
Critic Reviews for The Astronaut's Wife
Audience Reviews for The Astronaut's Wife
½
An easy space flight (if there's ever such a thing, at least as of yet) has an unexplained 2 minute glitch that eventually leads to some curious, ominous questions, both for the astronauts involved and for their wives anxiously awaiting them back at home. Charlize Theron does pretty damn good carrying this Rosemary's Baby, Space Alien edition as she, like Mia Farrow in the original, begins to suspect that something might possibly be rotten in the state of Denmark. Depp adds a little Memphis Elvis spice to the John Cassavetes/caring husband role, while Joe Morton ably handles the thankless job of Cassandra, the prophet no one believes. What's wrong? A slow opening. A too quick payoff at the climatic mano y mano, and not enough dread to carry us through the middle. The coda at the end feels tacked on and unnecessary. On the other hand ... I loves me some Charlize Theron.
Kevin M. Williams
Super Reviewer
½
An astronaut returns to Earth after an accident during a space walk, but his wife soon begins to suspect that he is not the man who she married. Rosemary's Baby gets the sci-fi treatment in this hokey supernatural thriller from the Twilight Zone school. The obvious draw for this film is the cast and Charlize Theron's hand-wringing turn as a paranoid spouse in the midst of spooky goings on makes it all very reminiscent of The Devil's Advocate. Unfortunately Johnny Depp's appeal has always revolved around his quirky charm and his serious miscasting here makes all sense of menace disappear; in fact I think that most women would think the idea of Jack Sparrow as their personal stalker would be quite appealing! But by far the biggest weakness of the film is the silly script that gets ever more ridiculous as it goes. The above par cast manage to keep The Astronaut's Wife palatable, but quite why they got involved with this sub X-Files nonsense in the first place is the biggest mystery of all.
½
Dull and pointless, Johnny Depp plays a far to run of the mill boring character for his acting style and the sub-par scares won't raise anything apart from your anguish at how much longer of the film is left. Give this one a miss.
Cameron Sherwell
Super Reviewer
The Astronaut's Wife Quotes
There are no approved quotes yet for this movie.