The Astronaut Farmer
(2006)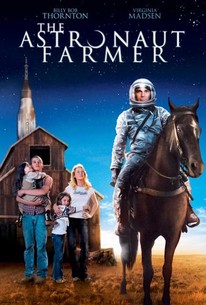 TOMATOMETER
AUDIENCE SCORE
Critic Consensus: The Astronaut Farmer is a charming, inspirational drama that successfully avoids modern cinematic cliches while appealing to the optimistic dreamer in all of us.
The Astronaut Farmer Photos
Movie Info
Dismissed from NASA's space program, former astronaut-in-training Charles Farmer pursues his lifelong dream by building his own rocket. On the eve of his launch, he must battle foreclosure on his ranch, a small-town community of disbelievers, the FAA and FBI agents who want to shut him down in the name of Homeland Security--but he remains determined to reach his goal and instill in his children the courage to pursue their own dreams, no matter the odds.
News & Interviews for The Astronaut Farmer
Critic Reviews for The Astronaut Farmer
Audience Reviews for The Astronaut Farmer
The first ten minutes were the most tedious I've spend in ages. Is Billy Bob Thornton betting on his appeal to carry a movie, because I think that currency has been devalued. Anyway, the story is bogus: who even OWNS a family farm anymore? They're just feeders into Big Food. And why now? He's been at this rocket building task for ten years. Too unbelievable to be real and not charming enough to be good fantasy.
Bathsheba Monk
Super Reviewer
A Texas rancher (and former Air Force pilot) decides to build a rocket in his backyard. Everyone's against the very idea ... except his family, and that's the meat and potatoes of this work about a family sharing a dream. So what if its unbelievable after that? A warm and fuzzy visit to the dreamtime. Look for an uncredited big time celeb cameo appearance.
Kevin M. Williams
Super Reviewer
The Astronaut Farmer is the fictional story of a former NASA astronaut who builds his own rocket to travel in space. The film follows the same feel good formula that many other films have taken, and the results are somewhat mixed. The film is average and can almost be seen as recycled ideas from previous films dealing with achieving the impossible. Obviously the character building his rocket will have obstacles to overcome and there'll be a period where he'll just want to give up, but he's encouraged to continue. The feds get involved because they believe that Charles Farmer is building a WMD in his barn. He faces the feds, skeptical neighbors, but he'll prove them wrong. Astronaut Farmer is typical of the feel good film. The film is good to watch, but it doesn't do anything new or original with the script. The Astronaut Farmer is a good film to watch with your family. Unfortunately the film is flawed and at times the film feels a bit stupid in it's dialogue delivery. Some parts made me cringe. The Astronaut Farmer is an average feel good film with decent acting, and average plot. However it's clear that the script suffers, and the full potential of this picture is strained and has yet to realized. Good, but not great. The thing with this film is that they were plenty of opportunities to craft something pretty good, but the filmmakers decided to recycle old ideas, and at times the film feels rushed. Still decent entertainment.
The Astronaut Farmer Quotes
There are no approved quotes yet for this movie.