Assault on Precinct 13
(2005)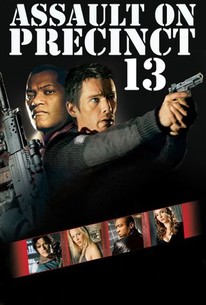 Assault on Precinct 13 Photos
Movie Info
This action-packed remake of the John Carpenter classic tells the tale of an under-manned Detroit police precinct on its last day of operation that finds itself under siege by a ruthless force that will not stop. This time, a notorious cop-killer and mobster Marion Bishop (Laurence Fishbourne) is unexpectedly brought into the precinct during a blizzard on New Year's Eve, much to the dismay of police sergeant Jake Roenick (Ethan Hawke). By nightfall, the remaining cops and prisoners find themselves fighting for their lives against a group of rogue cops intent on taking down Bishop before he testifies against them in the courtroom. Now it's up to the officers, secretaries, and inmates on the inside to band together just to survive this one night. Also starring Gabriel Byrne, John Leguizamo, Drea de Matteo, and Brian Dennehy. ~ Jeremy Wheeler, Rovi
News & Interviews for Assault on Precinct 13
Critic Reviews for Assault on Precinct 13
Audience Reviews for Assault on Precinct 13
The first Carpenter remake released in 05, the year of the Carpenter remakes. Amazingly this isn't a shot for shot remake but actually a reasonable attempt at something slightly different. Must give kudos to the script writer/s for trying a new angle with the plot to add a touch of originality. Its pretty much the same type of film as before accept this time the cops and crooks holed up within Precinct 13 are against crooked cops who want one of the convicts inside dead. Nice twist. You don't really expect that to be honest, I just expected the same old thing with a load of gang thugs but this adds a new dimension. The fact its a whole team of crooked cops led by the nasty Byrne is really good. Bryne merely stands around and sneers a lot ordering his men to do stuff, but his presence really boosts the bad guys, faceless no more. The good guys are now of course a group of big names but the choices are OK. Hawke is the Sgt in charge of the station and Dennehy is the cliched fat old moustached vet cop, whilst Fishburne leads the bad guys with Leguizamo doing another good twitchy gun nut. On one hand this is a fun film, plenty of decent action, pretty violent, good visuals and good performances from the main leads. On the other hand it does get silly in places, very predictable of course and feels like they are trying too hard. I did wonder if they were having a swearing competition throughout, how many times can you say f*ck!?, as if that will make the film better saying it a hundred times. The main issue is the simple plot point of a small group of convicts and beat cops up against a crack team of elite cops. Not just dumbass thugs but fully suited special ops type guys, yet they can't seem to crack this band of misfits, all of them end up getting killed! so much for elite cops huh. This is a fairly decent action romp I can't deny, stupid in places and with a slightly lame finale but its fun to watch. A slightly different beast to the original which is good but at the same time you lose the mystery and suspense of the original. The unknown lurking shadows in the bushes of the originals bad guys. There is a lot of stuff which has been tossed in here to flesh the whole thing out a bit more. Trying to make the film feel more of a serious Hollywood action thriller but its all pointless and not required, the beginning sequence especially. Think of this as a venture into 'Die Hard 2' territory, snow included.
Phil Hubbs
Super Reviewer
One of my problems is that I can never say no to a good friend, most of my Friends pick me first for a Movie, is there an Exit door? What was I thinking? Oh now I remember, Sasha Roiz!
[img]http://images.rottentomatoes.com/images/user/icons/icon14.gif[/img] Depending on how highly you think of the genre, the remake of Assault on Presinct 13 is either a formulaic slice of cheesy action conventions, or on the other hand an entertaining throw away B movie. I think it borders on the line of both. But really, I think it's the latter. It has laughable, overly serious performances from it's strong cast, that are nevertheless entertaining. With expert direction and nail biting suspense, it's enjoyable generally. However at times it's script, unrestrained pacing, and dull ending ruins the excitement of everything else that works well. So consequently I sometimes lost interest in the plot. However it managed to completely grip it again with impressively fantastical design, madly energetic action sequences, and a commendably magnetic and badass performance from Laurence Fishburne. It's nothing remarkable but it has enough in it to justify it's existence despite not being nearly as good as John Carpenter's original cult classic.
Directors Cat
Super Reviewer
Assault on Precinct 13 Quotes
There are no approved quotes yet for this movie.