Assassination of a High School President
(2008)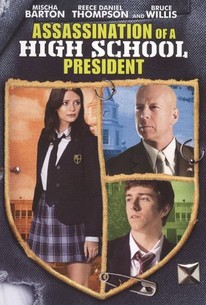 Assassination of a High School President Photos
Movie Info
A teenage take on Roman Polanski's post-noir classic Chinatown, The Sophomore stars Reece Daniel Thompson, Mischa Barton, and Bruce Willis in the tale of a Catholic high-school newspaper reporter who stumbles upon a disturbing conspiracy. Prompted by the most popular girl in school to investigate the theft of the SAT exams, an ambitious young fact-finder discovers that the school's president -- a disillusioned Gulf War veteran -- and the top jock are responsible for the crime. As if this information wasn't unsettling enough, it appears that both have been operation under the direction of an even higher power.
Critic Reviews for Assassination of a High School President
Audience Reviews for Assassination of a High School President
A great surprise. A gut-busting and hilarious dark comedy that packs of so many laughs that you have to see it twice and plenty of twist and turns. A must-see flick that is wickedly entertaining and totally original. It's sharp, stylish, twisted and frequently outrageous movie. A fun-house of huge laughs and a great cast that are having plenty of fun. A fresh and suspenseful new turn on the film noir world. Bruce Willis is intensely hilarious, he gives a great and endlessly hysterical performance that you will love him in. A high school comedy with attitude and wit.
Clara: Forget it, Funke. It's high school.  "Politics, popularity, paranoia, pharmaceuticals. Are you in?" Assassination of a High School President is a really cool film in my opinion. It blurs the line between a typical set in high school movie and a noir; like Brick, but not nearly as serious. It doesn't take long to find out that this is using movies like Chinatown and All the Presidents Men for material. There's a lot of dialogue, references, and scenes that tell us just that. I liked the movie for that. It took serious conspiracy stories and threw them in a high school setting with a lot of stuff we would find familiar. The standard high school movie plot devices and characters that is. We are given a main character, Funke. He is a geek; unliked and unknown. He's also a writer for the school newspaper, although he has yet to write a single article. When the SAT's go missing, he finds who he thinks is the culprit and writes a story on him. The person he fingers is none other than the high school president. Soon, like in many other high school set films, the geek has been reborn as a "cool" kid and he's banging the hottest chick in school. From there the story keeps developing and the conspiracy widens and widens. It almost seems serious, except that it isn't. We're reminded of that by characters that take every serious situation and make it into a joke and by Bruce Willis who plays the principle in such a ridiculous and comical way. This isn't a great movie by any standards and I can see why many people didn't like it. It didn't really do anything original or noteworthy, but it seems like everyone involved thinks it is original. But all it is is a movie that has been done before thrown into a new setting. With that said, I loved it. There was nothing about it that I didn't like. I thought it was funny, well thought out, and smart in a stupid way. I liked the references and I didn't think there was a bad scene in the movie. Plus I couldn't stop laughing at the party scene where they are playing pong and a kid says "I got winner" and collapses onto the table, is then picked up and says he wants another toothpaste cigarette. It's funnier if you watch it, I swear.  All in all, this movie really surprised me. I didn't expect it to be nearly as fun or good as it was. Most of that came because of the lackluster reviews, but part of it was my own guess. I was wrong and I am really glad I took a chance on it. It's a movie I couldn't help falling in love with and I'm sure I will watch it many times in the future and get the same kick out of it I did the first time around.
Melvin White
Super Reviewer
½
Quite dark for a movie set in high school. Some of the humour falls flat as it's a little too dark and verging on bad taste (i.e, the comatose girlfriend on the sofa), but mostly it works and is an entertaining use of an hour and a half. Mischa Barton I found not too bad in this. Not saying she is the best actress in the world, but she does suit this part well as the manipulative, popular girl, Bruce Willis is really hammy - it is the role, but even so, found him a little over the top (I am never really a fan, though, so take from that what you will!). There's quite a bit happening in this story, so it does require some concentration (the first time I started watching it, I was doing something else and I couldn't follow it at all and thought it was crap). However, second time around with full attention, I did find I liked this more. It is quite a quirky and clever little film, although, possibly not quite as much as it thinks it is... still, pretty good, give it a go!
Nicki Marie
Super Reviewer
Assassination of a High School President Quotes
There are no approved quotes yet for this movie.