Ask the Dust
(2006)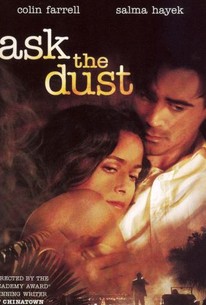 TOMATOMETER
AUDIENCE SCORE
Critic Consensus: Though Hayek is luminous, Farrell seems miscast, and the film fails to capture the gritty, lively edginess of the book upon which it's based.
Movie Info
Adapted from a novel by John Fante, Robert Towne's Ask the Dust stars Colin Farrell as Arturo Bandini, a young writer who comes to Los Angeles during the Great Depression in order to write a novel. As the film opens, he is down to his last nickel and decides to spend it on coffee in a diner. He is served by Camilla (Salma Hayek), a Mexican beauty he is instantly attracted to even though he treats her horribly during their first interaction. Soon the pair is involved in a relationship that finds them sparring with each other at first, but slowly learning to trust each other. Bandini meets the acquaintance of a desperate woman who sees him as the most desirable man in the world. Eventually Arturo and Camilla get away from the city and their love deepens as he attempts to finish his novel. Donald Sutherland co-stars as a seedy but helpful and loyal neighbor.
Critic Reviews for Ask the Dust
Audience Reviews for Ask the Dust
½
Robert Towne's uneven character study has sparse great moments, but there were enough strong ideas to keep me engaged. This is a flawed piece that requires a lot of patience, especially considering the fact that its first act is its weakest. However, the unorthodox protagonist and sexual energy keep it afloat enough for its positive elements to shine through. Colin Farrell, who is a consistently impressive actor, is not given enough credit for his talent. He does quite a good job in this, and Salma Hayek turns in a respectable performance too. If you're willing to overlook its faults, it's an engaging watch.
½
"I looked for Camilla everywhere,and everywhere I looked,all the faces seemed like mine.Tight. Worried. Lost. Faces with the blood drained away.Faces like flowers torn from their roots,the colors fading fast."
½
this film wanted to be great, and could have been so, but it missed the mark. at least average, it failed with oddities of the story and uncomfortable moments that were unneccesary to the plot. the premise was great but it missed on most everything else.
Ask the Dust Quotes
There are no approved quotes yet for this movie.