Arrival
(2016)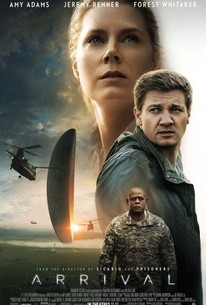 TOMATOMETER
AUDIENCE SCORE
Critic Consensus: Arrival delivers a must-see experience for fans of thinking person's sci-fi that anchors its heady themes with genuinely affecting emotion and a terrific performance from Amy Adams.
Movie Info
When mysterious spacecraft touch down across the globe, an elite team--lead by expert linguist Louise Banks (Amy Adams)--are brought together to investigate. As mankind teeters on the verge of global war, Banks and the team race against time for answers--and to find them, she will take a chance that could threaten her life, and quite possibly humanity.
News & Interviews for Arrival
Critic Reviews for Arrival
Audience Reviews for Arrival
With his debut Incendies in 2010, Denis Villeneuve really hit the ground running and has been one of the most consistently interesting director's for the last 7 years. There's a host of films and genres that Villeneuve has explored in that time; from the nightmarish surrealism of Enemy; his unflinching kidnap thriller Prisoners and his drug cartel action drama Sicario. If you put aside his forthcoming Blade Runner sequel, you could say that Arrival is his science fiction warm-up to attempting to re-engage with that much loved classic. Plot: 12 mysterious, alien spacecrafts land across the globe with the whole of mankind questioning their intentions. Expert linguistic Louise Banks (Amy Adams) is hired to attempt to communicate with them. In the meantime, frustrations are leading earth to a global war and the answers Louise begins to decipher could mean the difference between saving or eradicating humanity entirely. The renowned astrophysicist and author, Carl Sagan once wrote "The nitrogen in our DNA, the calcium in our teeth, the iron in our blood, the carbon in our apple pies were made in the interiors of collapsing stars. We are made of starstuff." This is a theoretical topic that courses throughout Villeneuve's film and, at one point, even referenced directly. Based on Ted Chiang's "Story of your Life", Arrival is not overly concerned with being a big-budget science fiction film. It certainly has these elements (and they are very well executed) but it's more concerned with mood, atmosphere and exploring the very nature of our existence through language and our relationship and understanding of time and space. In doing so, Arrival has much in common with Robert Zemeckis' 1997 film Contact (which itself was based on a book by the aforementioned Sagan). Both use the form of extraterrestrial communication as a device to understand ourselves and it's this communication angle (and the reveal that results from it) that eventually turns Arrival on its head. It's an angle that has split some viewers; is it too clever for its own good? Does it disappear up its own wazoo? Or is it a clever sleight of hand that questions our linear and literal perception of events? I'm siding with the latter but these questions are better left to the individual viewer. What can be said, is that Villeneuve has done his homework on this. Much like Christopher Nolan's approach to Interstellar, Villeneuve extensively ensured the film's scientific ideology was accurate by enlisting the help of renowned scientists and tech innovators who advised on all the terminology, graphics and depictions. As Villeneuve is in no rush to tell his story, he demands a patience and a willingness to open up to the films theories and possibilities. It can often be a bit weighty and does occasionally tread a fine line between absurdity and suspending your disbelief but there's much to ruminate over and Villeneuve is aided immeasurably but his cast and crew; Bradford Young (who previously impressed me with his work in A Most Violent Year) delivers some stunningly captured cinematography and Jóhan Jóhansson's score perfectly accompanies the mood and imagery. At the forefront, however, is a quietly effecting performance from Amy Adams. She brings such subtle emotional depth that she contributes hugely to your ability to buy the films premise in the first place. It's a performance that I'm very surprised has been omitted from this year's academy awards. I struggle with the 'masterpiece' label that has been thrust upon Villenueve's film but there's no doubt that Arrival is a delicate, thoughtful and accomplished piece of work. If he applies the same level of intelligence and challenging material to his Blade Runner 2049 then the continuation of Ridley Scott's master of the genre may well be in good hands. Mark Walker
Mark Walker
Super Reviewer
I don't give 5-star movie ratings often; sometimes not even once a year. This movie makes you rediscover the joy of discovery. If you're a fan of "Eternal Sunshine of the Spotless Mind" and/or "Alien", you should watch this if you haven't already. For me, this was a perfect film. PS: Now I finally understand all the hype about Ted Chiang
Letitia Lew
Super Reviewer
½
The space aliens finally arrived (like, what took so long, dude!) only in this interesting turn they're not concerned in taking over ... they just want to talk. Amy Adams is yet again excellent as one linquist tasked with deciphering their burps and giggles, with a twist ending on the horizon. Thought provoking yet slow as molasses.
Kevin M. Williams
Super Reviewer
Arrival Quotes
There are no approved quotes yet for this movie.