Araburu tamashii-tachi (Agitator) (The Outlaw Souls)
(2001)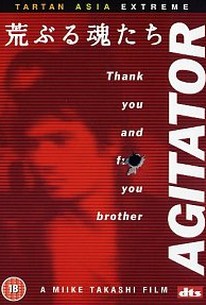 AUDIENCE SCORE
Critic Consensus: No consensus yet.
Movie Info
The murder of a volatile young Yakuza sparks a vicious gang war between two rival crime families in director Takashi Miike's violent and stylish crime thriller. Shortly after causing a ruckus in a nightclub owned by a rival crime family, a temperamental Yakuza is killed in cold blood. Retaliation comes quickly with the assassination of a high profile crime boss, prompting the respected leader's most loyal underling to embark on a bloody revenge spree that quickly escalates to epic proportions, setting the entire Tokyo underworld ablaze. ~ Jason Buchanan, Rovi
Critic Reviews for Araburu tamashii-tachi (Agitator) (The Outlaw Souls)
Audience Reviews for Araburu tamashii-tachi (Agitator) (The Outlaw Souls)
Takashi Miike's Agitator is a story set in the world of the Japanese Yakuza. A larger gang engineers the death of two of its smaller rivals leaders in an attempt to absorb them into their family, not counting on the fierce loyalty of one of their factions and their need for retribution. This film is ultimately about the difference between the needs of big business and the individual set in the brutal world of crime. Kunihiko is not shown as a hero exactly, just a man with an honest single-mindedness who cannot forget the loyalty to his "brothers" forged on the street for the sake of business interests; something that the slippery, money obsessed pseudo-bureaucrats at the top of the ladder cannot understand. It's a tough, uncompromising gangster story filled with graphic violence and has some interesting subtexts, as Kunihiko is shown almost as a samurai Ronin who has no purpose in life other than to avenge his master. Scenes involving a woman who I can only assume is Kunihiko's girlfriend pop up randomly and seem out of place mainly because she is never even mentioned when she is off screen, but otherwise its a cleverly plotted and visceral gangster film that I'd recommend to all fans of Takeshi Kitano and Martin Scorsese, or crime drama in general.
Araburu tamashii-tachi (Agitator) (The Outlaw Souls) Quotes
There are no approved quotes yet for this movie.