Apt Pupil
(1998)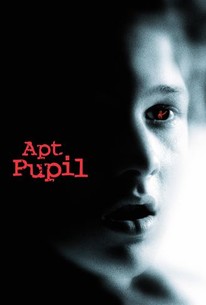 Movie Info
Sixteen-year-old high school student Todd Bowden has uncovered a deadly secret. Far from suspicion, Nazi war criminal Kurt Dussander has been quietly living in Todd's hometown. Fascinated with the atrocities Dussander committed during the war, Todd begins to blackmail him. In exchange for the teenager's silence, Dussander must reveal his evil past. The two begin a relationship that spirals out of control, producing terrifying results.
News & Interviews for Apt Pupil
Critic Reviews for Apt Pupil
Audience Reviews for Apt Pupil
½
"If you don't believe in the existence of evil, you've got a lot to learn." A boy blackmails his neighbour after suspecting him to be a Nazi war criminal.
REVIEW
Apt Pupil comes from 'Different Seasons', Stephen King's quartet of novellas that also spawned The Shawshank Redemption and Stand by Me. This movie is not in the same league as those two, but it still holds considerable interest as King explores the recidivist power of evil and the strange attraction it has to the young. Brad Renfro is Todd Bowden, a teenager who seems to have it all: terrific grades, affluent parents, even a gorgeous girlfriend. Beneath this seemingly perfect middle-class existence beats a dark fascination with the Holocaust and the Nazi death camps, particularly the gory details (you know the stuff: gas chambers, lampshades made from skin, electrodes attached to nipples, Mengele's ghastly experiments and so on.) He spots Mr Denker, an old man who lives in his neighbourhood - partly by chance, partly by his arcane reading, he recognises him as Dussander, a vigilante Nazi war criminal who has slipped from sight and set up in America. Armed with this knowledge, Todd blackmails the old man into recounting stories of Hitler's 'Final Solution' in all their grotesque horror. It's here that King excels, capturing the uncertain but developing relationship between the nervous old man and the monstrous boy; the content too lures us in, as we - like Todd Bowden - are grossly attracted to tales of the Holocaust even though we shouldn't be. As the film progresses, Todd's constant questioning starts to reignite the old hatred, the old thirst for blood in Dussander's veins, and the character starts to take on different shades. This is a workmanlike but relatively atmospheric account of King's novella, although the casting has always concerned me. Renfro was a good enough choice for Todd, but I've always felt that McKellen wasn't quite the right actor for Dussander. And David Schwimmer's casting as Todd's geeky school counsellor was laughable - I'm not sure what they were trying to achieve with that one. Still, it works on most levels and seems to get the majority of King's ideas and themes across to the audience. It's not a horror film by any stretch, more a psychological thriller, and quite a competent one.
Lorenzo von Matterhorn
Super Reviewer
½
Maybe this isn't one of Stephen King's most popular stories, but it's sure one of his most realistically creepy ones. Bryan Singer takes this short story and turns it into a highly performance based movie, which is fine when you have two amazing actors pitted against each other. I never get tired of seeing this story played out on screen and the characters are just so well managed. Brad Renfro looks like your average kid, which is why his bizarre characteristics are even more disturbing and effective. It takes a simple black mail scenario and spins it into something no one would expect. Ian McKellen does a great job as a shell-shocked Nazi war criminal and has you convinced every minute he is on screen. It must've been difficult to deal with such a touchy suspect and humanize the characters the way they do. Bryan Singer is a director that clearly knows what he wants to do and knows how to give off certain emotions with very little convincing. Apt Pupil isn't over-stylized, but incredibly subtle. To see so many evil things take place in such a warm setting us a lot more effective and lasting than having them take place where you might expect them. This is a movie that has only become more effective with age and takes you back to a time where so much of suburbia was still naive to the outside world and horrors that can possibly exist in your neighborhood. It's surreal to imagine your nice old neighbor as an escaped Nazi. I'm sure this movie will continue to be overlooked, especially when it comes to the intentions of the story, but for the people that do see it and understand it, Apt Pupil is one great movie.
Conner Rainwater
Super Reviewer
Apt Pupil is a very interesting Thriller. Directed by Bryan Singer who is famous for directing the first two X-Men films directs this chilling and thrilling tale. When he discovers that one of his neighbors is a Nazi war criminal, teenager Todd Bowden persuades and blackmails Kurt Dussander to tell him about his war crimes. Dussander agrees and Todd Bowden starts a lesson he won't forget. Apt Pupil is not a horror film, but its most certainly horrifying due to its subject matter. Bryan Singer has a talented cast at hand and he takes every opportunity of the talent present to create something tense and unerving. However by the film's end you feel that something could have been improved and it could have been somewhat better. The film does a great job at capturing the cold, evil nature of Ian Mckellen's character (who is well cast and gives a great performance) But considering that this is a film directed by Bryan Singer, you know right from the start that this isn't his strongest directorial effort. Apt Pupil is an entertaining and good thriller that could have been a lot better than it is, but it manages to still have a good story and got thrills. Either way, you'll probably have chills coming up and down your spine when you watch the film. Despite its flaws, Apt Pupil is a good, entertaining thriller that delivers chilling moments that are quite disturbing.
Apt Pupil Quotes
There are no approved quotes yet for this movie.