Appointment in Honduras
(1953)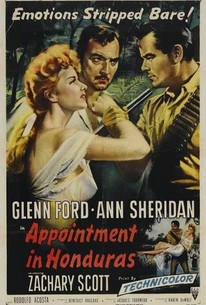 AUDIENCE SCORE
Critic Consensus: No consensus yet.
Appointment in Honduras Photos
Movie Info
Ann Sheridan landed the leading role in Benedict Bogeaus Productions/RKO Radio's Appointment in Honduras as part of a legal settlement arising from Sheridan's being dropped from RKO's My Forbidden Past (1951). Set in Central America, the plotline resembles a Republic serial, with Ms. Sheridan and leading man Glenn Ford facing such perils as man-eating fish, alligators, outsized hornets and a jungle brushfire. Ford's involvement in the proceedings comes about when he is hired to make certain that a huge sum of cash reaches an ousted South American political leader. Sheridan and her husband Zachary Scott are taken hostage by Ford's crooked employers and forced to go along. Guess who survives the ordeal and who doesn't. Jacques Tourneur's gutsy direction and Joseph Biroc's vivid Technicolor photography conspire to make Appointment in Honduras seem more expensive than it was.
Critic Reviews for Appointment in Honduras
Audience Reviews for Appointment in Honduras
A excellent film noir collectors item. Glenn Ford is on a mission. He must get to Honduras at all costs. We get the feeling he's smuggling something or is a contact person for something going down. He's on a steamer with husband-and-wife passengers Zachary Scott and Ann Sheridan. Just why they're there, I forget. But of course, they get dragged into Glenn's mission as hostages, so they have to brave the elements, too. Stuart Whitman and Jack Elam costar in this colorful and exotic film about danger at every corner and in every swamp, with alligators, crocodiles, snakes, tiger fish abound. Don't get in Glenn's way or else, because he means business here! This does have a very campy feel to it, making the viewer feel that they're not to take things too seriously. I had a lot of fun just imagining that, as they are all battling through the brush and the rain on this island, they are really on a movie set! It also helps that Ann and Glenn are practically sweating on each other, even though Ann's married to Zachary. And, the shots of a jungle and the apparent on-location outdoors helps fit the mood. I see that the rating on this is on the poor side, but I've seen worse. If you happen to come across this and want some entertainment for 75 minutes, then this over-the-top film should fulfill your adventure fix with some good company. Just watch out for those tiger fish! 5 Stars 1-20-13
Bruce Bruce
Super Reviewer
Appointment in Honduras Quotes
There are no approved quotes yet for this movie.