The Apple Dumpling Gang Rides Again
(1979)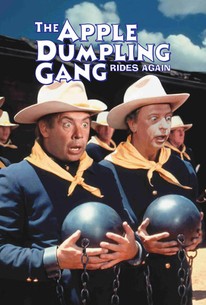 AUDIENCE SCORE
Critic Consensus: No consensus yet.
The Apple Dumpling Gang Rides Again Photos
Movie Info
Tim Conway and Don Knotts, mere supporting characters in the original Apple Dumpling Gang, are promoted to starring roles in the 1979 sequel The Apple Dumpling Gang Rides Again. Once more cast as clumsy, soft-hearted western outlaws, Conway and Knotts come to the rescue of cavalry private Tim Matheson. The villain, lieutenant Philip Pine, is undermining the authority of Matheson's commander Harry Morgan, and Matheson wants to find out why. Featured performers include Jack Elam as Big Mac and Ruth Buzzi as Tough Kate.
Critic Reviews for The Apple Dumpling Gang Rides Again
Audience Reviews for The Apple Dumpling Gang Rides Again
There's no kids or Bill Bixby to be seen; only Tim Conway and Don Knotts, playing Enos and Theodore. They get themselves into all sorts of trouble; not being the brightest fellows. They are mistaken for bank robbers and chased by Wooly Bill Hitchcock the rest of the movie, they briefly become cooks for the cavalry and end up destroyign the fort, so are sent to prison, where they learn of a train robbery plot by Big Mack and his gang, which they try to foil, even if it means dressing up like saloon ladies and dancing with bank robbers. Enos and Theodore are so dumb, they don't seem to recognize their predicaments. I guess that's what makes it so funny, eh? There's some funny jokes in prison as they get the cons thinking Don Knotts is a bad-ass crime boss. Sadly, their misadventures are intercut with scenes of romance between a soldier and his Miss Milly, which bogs the movie down. There's not much for kids here; this is more a comedy-western for adults under the Disney name.
Lafe Fredbjornson
Super Reviewer
Not as good as the first, but okay.
Leigh Ryan
Super Reviewer
The Apple Dumpling Gang Rides Again Quotes
There are no approved quotes yet for this movie.