Apostle
(2018)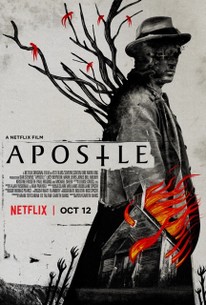 TOMATOMETER
AUDIENCE SCORE
Critic Consensus: Apostle resists easy scares in favor of a steady, slow-building descent into dread led by a commanding central performance from Dan Stevens.
Movie Info
London, 1905. Prodigal son Thomas Richardson (Dan Stevens) has returned home, only to learn that his sister is being held for ransom by a religious cult. Determined to get her back at any cost, Thomas travels to the idyllic island where the cult lives under the leadership of the charismatic Prophet Malcolm (Michael Sheen). As Thomas infiltrates the island's community, he learns that the corruption of mainland society that they claim to reject has infested the cult's ranks nonetheless - and uncovers a secret far more evil than he could have imagined. Written and directed by Gareth Evans (THE RAID), APOSTLE is a harrowing occult fable where the only thing more horrifying than madness is the sinister reality behind it.
News & Interviews for Apostle
Critic Reviews for Apostle
Audience Reviews for Apostle
½
I think far too many movies that go for a similar vibe to Apostle aren't willing to take that very important step into actually embracing your supernatural/fantasy/gothic elements. Apostle on the other hand, goes full hog saying "fuck that", and in turn I'm saying "Please sir, may I have some more."
So I think, before we get on with the review, we need to have a chat about Gareth Evans, writer and director of this film. Gareth Evans, for those of you who may not know, is also the writer and director of two of the best action films I have ever seen, The Raid and The Raid 2. The Raid is pure, kinetic action. One of the things you immediately notice about The Raid is how impeccably flawless the editing is. Not only do they make everything look that much more smooth and fluid, but the action is in your face, they never shy away from the visceral elements of the fighting. The Raid 2, really, is a crime masterpiece disguised as an action movie. The action was still unreal, but the world-building, story and characters were much more larger in scope. So, really, this guy is incredible at directing action movies. One would reasonably expect that someone who excels at one genre wouldn't do well in others. Well, you would be wrong about that. Because, in VHS 2, Gareth Evans directed one of the shorts in that movie, called Safe Haven. And Safe Haven remains one of the best horror shorts I have ever seen to boot. I feel that whatever Gareth Evans wants to do, regardless if it's outside of his comfort zone, he'll find a way to be successful at it. Having said that, after Safe Haven and before The Raid 3 (if it is ever made), I felt that Gareth should make a full-length horror movie, just to see what kind of twisted shit this man could come up with and, praise the lord Nicolas Cage, he has! And, boy oh boy, has he delivered quite the memorable horror movie. Much unlike what he did for action and horror shorts, from my own point of view of course, this isn't one of the best horror movies I've ever seen. Hell, it's not the best horror movie I've seen this year. And even more hell, it's not even the best horror movie I've seen THIS MONTH. Of course, that is not to suggest that this doesn't deliver on what is promised, because it certainly does, in spades mind you. It's just that horror is such a wildly populated genre that Gareth Evans would have literally had to move heaven and earth to make something that blew my mind. Regardless, overall, I would say that this was quite a great movie and Gareth Evans continues to prove why he is one of the best genre filmmakers out there right now. I liked the story, because there's a looming sense of dread behind every corner, every scene, every shot, every stare. You know that, eventually, this facade of a, supposedly, self-sustained community that pays no taxes to the King (hence why they're so paranoid about spied upon from the inside out) will fall apart layer by layer as we find out more about Malcolm, Quinn and who this goddess supposedly is. In many ways, this very much a slow-burn. Building up the atmosphere, tension and, once again, dread is more important to this movie as opposed to cheap scares and gore. And, of course, that's not to say that the film doesn't have its fair share of gore, because it certainly does, but the movie is also smart enough to know that that gore doesn't mean anything if you don't build things up the characters and the world they inhabit first. When it all falls apart, you need to know who these people are and what their motivations may be in order to get into what they're going through. And this movie does a great job at doing that. With that said, I'll admit that a lot of people, expecting thrills from the very start might be disappointed but, in my opinion, if you're just patient enough, the movie does reap a lot of rewards. Which is interesting to say considering that the one of the main plot threads of the film is the fact that the land the cult lives on is uninhabited because it is tainted. This is one of the running themes of the movie and what, eventually, leads to Quinn turning on Malcolm. For, you see, Malcolm, Quinn and Frank found themselves shipwrecked on this island. As they walked through it, they came upon this forest and in this forest they find Her, who turns out to be the goddess. The goddess, when given small sacrifices such as small animals and/or human blood, causes the crops to flourish and the land to prosper. So Frank, Quinn and Malcolm decided to tie up the goddess in this barn in order to keep her under control and to give her the sacrifices that would allow their crops to flourish. But, of course, Malcolm, who's a man who has to do difficult things as ruler of this community, refuses to give the goddess human sacrifices. As, you see, the animals and human blood just aren't enough for the goddess anymore, she requires more for her powers to be at their full capacity. This leads to some tension between Quinn and Malcolm, as Quinn feels that Malcolm doesn't have the guts to do what it takes in order to make sure that the community survives and thrives. And that's not even going into everything involving Thomas, a former missionary, coming to the island to save his sister, who was kidnapped for ransom money. He is slowly uncovering all of the island's mysteries. There's also a side plot involving Jeremy and Ffion and their romance. It's not as useless as it sounds, as their romance does end up leading to one of the film's most impressive scenes when Quinn, upon finding out that Ffion, his daughter, is pregnant at the hands (or penis) of Jeremy stabs her to remove her unborn child, in turn killing both of them. Jeremy and Quinn then have a fight, and the fight is tremendous, Evans is still one of the best at this, and it leads to Quinn blaming Jeremy for Ffion's murder, which is when Quinn starts to take over the community. This leads to Jeremy being horribly murdered in a sort of ritual. I like that everything in the movie seems to be serving the same purpose. All of these characters, side plots and story threads all seem to be leading to the same conclusion. That it takes a bit to get to that point notwithstanding, I always like movies where you can see everything head to the same endgame. It doesn't divert. Like I said, every plot thread has some sort of relevance to where story, inevitably, ends up. The title of the movie also serves two purposes. First, it alludes to Thomas' former position as a missionary sent to Peking to introduce Christianity to the region, which doesn't end well for him, to say the least. He's clearly a very conflicted man and, to boot, his sister is missing. But the title also reflects where he ends up at the end of the movie, essentially, taking over for the goddess, as she passed his 'skills' on to him. It is also implied that the goddess called to him to come to the island and there's some sort of connection between the two. I like Dan Stevens a lot in this movie, so no complaints from me in that front. I pretty much spoiled the entire thing, haven't I? Oh well. Regardless, I can't compliment this movie enough honestly. If there's one flaw is that the movie might be a little too long. There are some slight pacing issues that flare up here and there, but nothing that is too out of control or that makes the movie difficult to go through. The film's imagery, cinematography, writing, acting and tone help carry the load, so to speak. It is a movie that is exceptionally put together and it's far more experimental, from a technical and cinematography aspect, than either of The Raid movies. Gareth has always had a very distinctive style and, regardless of how out there the movie is on a technical level, it still feels his and his alone. Like I mentioned, I don't think there's anybody better at shooting and editing a fight scene than Gareth and while there's not much fighting in here in comparison to the movies that made him famous, he still shines at those scenes. What's more surprising about this is how he was able to build a horror movie from the ground up and do it properly. That's the mark of a truly talented filmmaker and it shows off that he's not a one-trick pony. Not that people classified him as that, who could after The Raid and The Raid 2, but this movie is proof that he can do horror and do it great as well. The ending, to me, isn't vague. It's fairly obvious that Thomas is now the god of this island, much like the goddess and, who knows, if the goddess was in a similar situation that she put Thomas in. Long story short, I felt that this was a great movie. I think it's everything I could have wanted from a horror movie directed by Gareth Evans. It's tense, it's lovely to look at, the cloud of looming violence slowly spreading throughout the movie until it reaches its breaking point. It's also a movie that, I'm sure, is steeped in Welsh folklore and mythology and, in short, this is just a rich movie that rewards your patience. I would easily recommend this and, really, it might be one of the best 'Netflix original' movies that I've seen. Though, to be fair, there's a few great ones that I haven't seen yet. With that said, however, this is a top-notch movie and I'm glad to have finally watched it. Now, please, Gareth...PLEASE make The Raid 3!!!
Jesse Ortega
Super Reviewer
Could have been great if some the ideas and characters were fleshed out a little more but Evans can still stage an violent set piece like no one else, and this is a mostly a wild ride when it sticks to the basics of its genre.
Alec Barniskis
Super Reviewer
Apostle Quotes
There are no approved quotes yet for this movie.