Apocalypse Now Redux
(2001)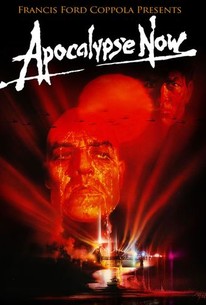 TOMATOMETER
AUDIENCE SCORE
Critic Consensus: The additional footage slows down the movie somewhat (some say the new cut is inferior to the original), but Apocalypse Now Redux is still a great piece of cinema.
Apocalypse Now Redux Videos
Apocalypse Now Redux Photos
Movie Info
Loosely based on Joseph Conrad's novel, "The Heart of Darkness", the film transplants the tale to the Vietnam War. A young American captain is given the assignment to hunt down and kill one of his own, a colonel, who has apparently gone insane. The deranged colonel murders hundreds of innocent people and constructs a strange kingdom for himself deep in the jungle, where he is deified by his followers.
News & Interviews for Apocalypse Now Redux
Critic Reviews for Apocalypse Now Redux
Audience Reviews for Apocalypse Now Redux
If most of the extra scenes don't add anything new to the overall experience, neither do they stand in the way - except for an overlong one at a French plantation that is distracting and quite unnecessary. Still, this director's cut is a must-see for all admirers of Coppola's classic.
Carlos Magalhães
Super Reviewer
Like most people, I had a similar reaction to Apocalypse Now: Redux in that I didn't find it all that great as a film. There's a reason all of this extra footage was cut out in the first place: to make a better film. They succeeded in that. People like to take Francis Ford Coppola to task for going all George Lucas on his masterpiece and tinkering with it, but the difference is that Coppola is just as happy with the original film as he is with this alternate version, which is what he calls it. It's a fresh approach to the material that was shot in the late 1970's by mostly the same group of people who made it in the first place. For me, I find it to be a bit fascinating to see the extra footage and how it works in the context of the film that I'm already very familiar with. The trouble is that it doesn't improve what had already been perfected to begin with. Again, I'm not criticizing the effort, just stating my feelings about it. I feel the new footage slows the pace of an already long film down. If you're bogged down in what's happening in the story with a narrative that follows a man up a river to find a Colonel, then you're gonna be bored when he stops off for a half an hour to talk to some French plantation owners. They're good scenes in and of themselves, but I think the film improves without their inclusion. Thankfully both versions are readily available and some people do find Redux to be an improvement story-wise, especially as it relates to Clean's character, but I prefer the much slicker and more tightly-edited narrative of the original film. It's a mix of art and storytelling that winds up being a perfect blend, and even twenty years later it can't be improved upon with never before seen footage.
Tim Salmons
Super Reviewer
Redux is the perfect warning sign to discourage any director who is thinking about letting his ego ride roughshod over the editing process. It's true, some great films have been compromised by studio intereference, but more often than not, footage that ends up on the cutting room floor is there for a very good reason. Case in point; Apocalypse Now is one of the greatest films ever made, and yet all Coppola had to do to turn it into a flabby, meandering, episodic road movie was to put back all the bits that were actually too crap to make it into the original cut. There are some scenes of merit, namely the bonding session between Martin Sheen and his crew when they steal Robert Duval's surfboard, and Brando's speech when he is first captured. Unfortunately, Coppola also felt the need to include a rather distasteful sequence that reveals our heroes to be date rapists and a virtually unwatchable load of pseudo-political waffle set to the accordion. That scene alone was enough to make me want to attack any Frenchman on sight. Maybe worth a watch to satisfy the curious, but PLEASE make sure you watch the "proper" version first otherwise you may be put off watching a cinematic masterpiece for life.
Apocalypse Now Redux Quotes
There are no approved quotes yet for this movie.