Antboy
(2014)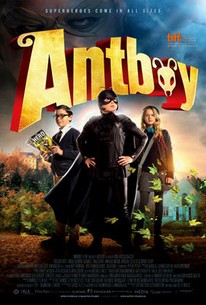 Movie Info
Pelle is a shy twelve-year old who is bitten by an extremely special ant. As a result, he develops superpowers that he has to navigate through among all the other awkward moments a kid must face. Aided by Wilhelm, a comic book fanatic, Pelle creates a secret identity as the superhero, Antboy. When the dreaded villain, The Flea, enters the scene, Antboy is put up to the challenge. (c) Viva
Critic Reviews for Antboy
Audience Reviews for Antboy
Fun and charming - and honest enough to wear its references on its sleeve.
Marcus Woolcott
Super Reviewer
Proving that not everything based on a comic book should be made into a live action feature, comes "Antboy," a film about a boy who is bitten by an ant and has to face a villain after acquiring the powers of an ant. Beat for beat like Sam Raimi's original "Spider-Man," this film was both hard to watch, and some of the most fun I have ever had laughing at a film. With the poorly dubbed english version of this film, you can't help but chuckle and have fun with it, while enjoying this ridiculously stale and tired story. By the end of this very short film, I had loved, hated, and laughed at this film. "Antboy" knows exactly what it is, but that is the biggest issue here, because it is a little too self-aware, to the point that almost every single scene gives you DeJaVu. I enjoyed watching a few scenes of this picture, but by the end, it felt like a children's rental at best. In the end, I laughed a few times and the main actor was enjoyable in the lead, but the movie around those aspects it pretty bland. I'd recommend it if you have a bunch of people with you to laugh at it with.
Antboy Quotes
There are no approved quotes yet for this movie.